Pad Thai Cookbook

,

Sangdad Books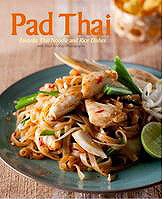 This new Pad Thai Cookbook from one of Thailand's top cookbook publishers, shows you how to make many different recipes for Thailand's most famous noodle dish, Pad Thai and includes interesting background information about this famous noodle dish along with recipes for other popular Thai noodle dishes. Chapters include: Introduction, Essential Ingredients, Pad Thai & Its Regional Variations, Phat Si-io & Other Fried, Noodles, Rat Na & Other Dishes, Noodles with Sauce, Rice Dishes and On Rice Dishes.
Thai noodle shops (ran kuaitiao), rice & curry shops (ran khao kaeng), and food-to-order shops (ran ahan tam sang) dominate the lively street food scenes in Thailand and serve as evidence of the importance of noodle and rice dishes in the Thai culinary repertoire. Not only are noodles served as street food, they are also frequently served cooked at home, especially since quick and easy meals are increasingly becoming more important in modern Thai families. No matter where you are in the present, rapidly changing world, serving a full meal at home has become an exception rather than the rule. Single-plate dishes including noodle, pasta, and rice have become more and more an essential part of home cooking throughout the world.
This book is in English. See more Thai cookbooks.
Availability: Ships in 2-3 business days from Los Angeles, California.
Category: Asian Cookbooks
SKU: 7004500445