Spicy Thai Cuisine Cookbook

,

Sangdad Books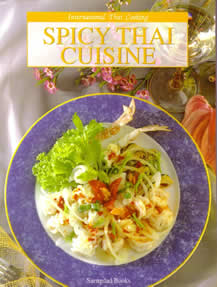 If you have enjoyed exotic hot and spicy Thai salads at the restaurant but had no idea how to make them, this is the book for you! This Thai cookbook has forty-six spicy salad (yam) recipes with an emphasis on the bountiful seafood of Thailand. Classic Thai favorites such as Beef Salad and Green Papaya Salad are included. Try the Thai recipe below which comes from this cookbook, Spicy Shredded Cucumber Salad.
Recipes : Yam Kung, Yam Pla Meuk, Kung Kamkram Phla, Yam Sam Sao, Yam Hor Shell, Khaw Mu Yang Kha-na Krob, Yam Sam Sahai, Yam Thai Noi, Yam Khamoi, Yam Kai Yang, Yam Thale Rod Ded, Yam Hoi Khraeng, Yam Maeng Kaphrun, Yam Pla Fu, Yam Pla Salit Fu, Yam Som-O, Yam Chom-Phu, Yam Khai Dao Bacon,Yam Sai Krawk Bacon Thod, Yam Hu Mu Prung Rod, Kung Ten, Phla Pla Meuk, Pla Kaphong Khao Neung Phrik Ma Nao, Pla Meuk Neung Ma-Nao, Kung Neung Rat Phrik Ma-Nao, Mu Ma-Nao, Yam Taeng, Kung Neung Khai Rod Seap, Pla Chawn Yang Seap, Yam Phrik Wan, Phla Pla Krob, Yam Phrik Chi Fa, Som Tam Malakor, Yam Pla Thu Kap Sai Bua, Yam Phrik Yuak, Yam Pla Chawn Krob, Yam Neua Rod Ded, Phla Neua Ma-Kheua Praw, Tap Wan, Tom Yam Pla Chawn, Tom Yam Khai Pla, Tom Yam Pla Kao Thod Krob, Tom Yam Kha Mu, Tom Priao, Tom Yam Hua Pla Nam Sai, Keang Som Pla Chawn Krob.
Every recipe is written in both Thai and English with full page photographs. Published by Sangdad Books, 102 pages, high quality glossy paperback. Imported from Thailand.
See more Seafood Cookbooks.
Availability: Ships in 2-3 business days from Los Angeles, California.
Category: Asian Cookbooks
SKU: 7000450098