Thai Favorites To The World Kitchen

,

Wandee Thai Cooking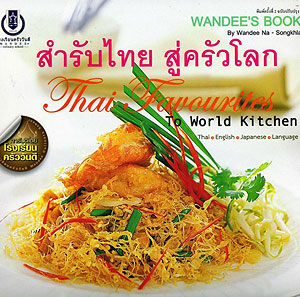 Bangkok's famous Wandee Thai Cooking School publishes this glossy and attractive cookbook - Thai Favorites to World Kitchen. In this book you'll learn 65 of the most popular Thai recipes from their Basic and Advanced cooking courses, including favorites like Green Curry and Papaya Salad and possibly lesser-known recipes like Deep-Fried Chicken Wrapped in Pandanus Leaves and Rice Crackers with Pork and Shrimp Dipping Sauce. Lessons straight from the school's famous head chef, Wandee Na-Songkhla, makes these Thai recipes fun to explore and easy to master.
When attending the Wandee School in Bangkok, students can receive up to 300 hours of classes, and a certificate of completion from Thailand's Ministry of Education, so the recipes in this book have been fully tested for their authentic Thai taste and easy-to-follow instructions. Look at the beautiful full-color photographs to get an idea of the finished recipe, and to identify the Thai herbs used to create it. Every recipe comes with an introduction by Na-Songkhla where she shares something about the history of the dish or some hands-on cooking tips.
Glossy, full-color photographs and high-quality paper. Written by Wandee Na-Songkhla and published by Wandee Culinary School. 228 pages in three languages: English, Thai, and Japanese.
Availability: Ships in 2-3 business days from Los Angeles, California.
Category: Asian Cookbooks
SKU: 7004500358