The Best of Thai Seafood

,

Sangdad Books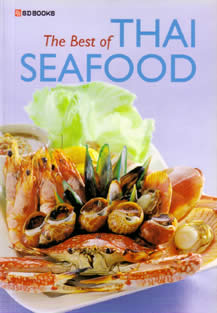 The Best of Thai Seafood cookbook features famous Thai seafood recipes like Mussels in an Earthen Pot, Spicy Prawn Salad, Prawn on Sugar Cane Sticks and Smoked Kingfish.
You will find information on the Thai way to clean, store and cook: prawns, lobsters, crabs, cockles, mussels, clams, oysters, scallops, squid and cuttlefish.
An introductory section on Thai ingredients includes herbs and spices with full page photos and descriptions. Names of ingredients in Thai and English, 192 pages, paperback. Written by Sisamon Kongpan.
You can see a short preview of an earlier edition of this cookbook at the Singapore Library website here.
Availability: Ships in 2-3 business days from Los Angeles, California.
Category: Asian Cookbooks
SKU: 7000450161