Thai Jungle Food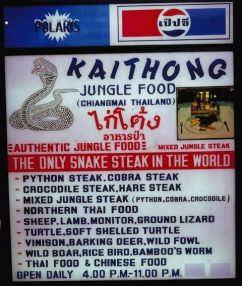 Seasonal and regional like the great cuisines of Europe, Thai cuisine is adapted to the freshest available local products. The warm climate of this tropical country results in an abundant supply of herbs, vegetables, bountiful seafood, and fresh river fish. Changes in availability of various food stuffs throughout the seasons guarantee a epicuriean delight. Because there is no winter there is never a season where fresh ingredients are not available.
Around the Thai home many foods are grown that we are unfamiliar with in the West: chili peppers, lemon grass, fresh peppercorns, 'pak boong' (water spinach), and numerous herbs, 'pak chee' (cilantro) being just one of them.
As a historically rural country, Thai people today still collect or grow their own foods, fresh herbs, both from the garden and the wild. Foraging for wild mushrooms in the rain season and gathering wild honey are today still profitable past times for rural dwellers, because good food never goes out of style.
Shop for Thai food in our marketplace