Thai Cooking Classes in the USA

KASMA LOHA-UNCHIT San Francisco Bay, CA
Kasma is a cooking instructor and Thai cookbook author based in the San Francisco Bay area. Please see our interview with Kasma. Kasma has offered classes for over 20 years at her own home-based cooking school, Art of Thai Cooking in Oakland, California. See her excellent site for more details and recipes, cooking tips and more.
Kasma offers two types of classes:
4-week, 4-session series at the Beginning, Intermediate and Advanced Levels. A typical class might be held, for instance, on four Monday nights during a month. There are currently six different advanced series available for people who have taken the beginning and intermediate series. These classes are held during March through June, September & October.
Weeklong intensive classes during July and August at the Beginning/Intermediate and Advanced levels. These classes are all-day long from Monday to Friday and cover the same material as the series classes in a more intensive time frame. There are currently 3 advanced series available for those who have completed the weeklong beginning/intermediate class.
Check out the Information on all levels of Kasma's Thai cooking classes (including menus and class details).
---
Also see
COURSE HORSE
below for Thai cooking classes in the
Los Angeles
area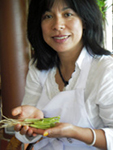 PRANEE'S THAI KITCHEN Seattle, Bellevue & Eastside Area, WA
Chef Pranee is a member of IACP, the International Association of Culinary Professionals, and enjoys teaching Thai cooking throughout Washington. Pranee first learned Thai cooking as a child in Phuket, Thailand and visits Thailand annually to collect and preserve family and home town recipes. She also hones her culinary skills by participating in many classes, seminars, and conferences.
Private Asian Market Tours and Cooking Classes

Ongoing by appointment and sheduled (see her site for details and dates):

Asian Market Tour & Cooking Class Special Menu

Learn different complete menus from Chef Pranee, offering two Thai and one Vietnamese menu. Pranee will demystify Thai cooking with popular and seductive Thai dishes. You will understand what is known as "the harmony of Thai cooking;" balancing the four primary flavors of sweet, sour, salty and spicy in your everyday cooking.

Seattle Thai Market Tour & Cooking Class

Check their site for the latest schedule of Thai Cooking Classes

Check their site for the latest schedule including upcoming

Thai Noodle Dishes

Have you ever wondered how to cook Asian noodles? Pranee demystifies glass noodles, rice noodlesand Chinese egg noodles in classical Thai dishes including: Yam Woon Sen (Spicy Thai Salad), Phat Phet Kee Mao, and Kao Soi Gai, crispy egg noodles with chicken in a coconut curry broth.
Please see Chef Pranee's website for more details and many more upcoming classes in the Seattle area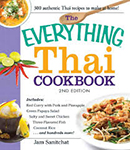 THAI COOKING WITH JAM Austin, TX
Chef Jam invites you to learn authentic Thai home cooking from scratch by learning the tricks and tips in Thai home cooking that have been passed on to her by her grandmother and mom. She offers individual and group classes. Please see her website for more details.
Private Thai Cooking Classes

Pick your own menu with up to four dishes to learn
Classes last 2-3 hours depending on your menu choices
Classes can be held at your location or at Thai Fresh
Ideal for birthdays, parties, kid's and team building

Menu Ideas: This menu is a combination of great soup and entrees plus dessert and is what you would see on a Thai dining table

Lemongrass Soup- It's the famous hot and sour soup with a touch of lemongrass. A great soup for all occasion.
Green Curry with Chicken - It's hot and it's good. This Thai curry uses green instead of red chili peppers.
Spicy Chicken with Basil - This wonderful stir-fried dish can be made into fried rice or stir-fried noodles.
Sticky Rice with Mango - Nothing beats mango sticky rice as far as Thai desserts go.
Jasmine Rice - It's not complete without the rice!

Scheduled Public Cooking Classes at Thai Fresh - see Jam's site for more details

SUPATRA'S THAI CUISINE St. Paul, MN
Supatra Johnson is a Thai cooking instructor, restaurateur and author of the Thai cookbook, Crying Tiger (available for sale in our Thai cookbooks section); she offers cooking classes in the Twin Cities area of Minnesota at her restaurant several times per year
Egg Rolls, Pad Thai, Thai Steamed Fish, Pumpkin Coconut Soup

These are just some of the Thai dishes that Supatra is currently teaching, check her site for the latest schedule

To Register: call 651-222-5859 or send an email to supatra@supatra.com. Classes are held at Supatra's Thai Cuisine, 967 West 7th St. Saint Paul MN 55102
See Supatra's website and our Crying Tiger cookbook page for more details about the classes, Supatra and her restaurant.
VIKING COOKING SCHOOL (Classes in Atlanta, Cleveland, Dallas, Greenwood MS, Atlantic City, Faifield NJ, Houston and Salt Lake City); Examples of the types of classes offered:
Best of Class: Thai - highlights two of the most fabulous fingerfoods of Thailand

SKILLS AND TECHNIQUES: Learn to working with Thai ingredients; learn Thai cooking techniques; make authentic Thai sauces and salads, and learn to season Thai dishes and balance flavors properly.

Thai Dinner Party - In this hands-on workshop, you will learn to prepare a Thai menu. Enjoy a glass of wine or Thai iced tea while learning about the cooking techniques and ingredients of Thailand.

SKILLS AND TECHNIQUES: Cook with Thai ingredients; learn how to grill, make soups, stir-fry, and cook shrimp perfectly every time.
Sign up for Viking Range Thai cooking classes (please see their site or contact Viking directly for location of the classes)
INSTITUTE OF CULINARY EDUCATION - several different classes on offer (example below), see site for details
Essentials of Thai Cooking
This course focuses on the most traditional and popular Thai dishes, giving students insight into the basic ingredients, seasonings and techniques of this fascinating cuisine. You'll learn how to cook Tom Yum Goong, Spring Rolls, Satay; Green Papaya Salad, Green Curry, Pad Thai Noodles, Steamed Fish with Tamarind Sauce; Sticky Rice with Mango, and Tapioca Pudding with Coconut.
See the Institute of Culinary Education in NYC for details
---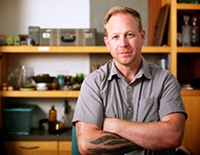 COURSE HORSE - New York City and Los Angeles
Course Horse
Find classes for New York and Los Angeles, including upcoming class with Chef Andy Ricker on Thai Street Food, and Thai Home Cooking (MONDAY NOVEMBER 4 2013 only)
See the Course Horse site for details by searching on Thai cooking classes

Do you know of an upcoming Thai Cooking Class? Please let us know!