Thai Yellow Chicken Curry (Kaeng Kari Kai)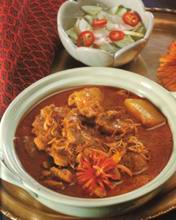 Winter is a great time for recipes that take a little more prepartion. Grind up the ingredients for this Yellow Curry Paste recipe in our Granite Mortar & Pestle or electric blender if you are short of time. The addition of potatoes will make it a welcome meal on a cold night. Serve with a simple Cucumber Relish.
Ingredients:
500 grams chicken or beef (about 1lb)
2 tbsp. Yellow Curry Paste (recipe below)
3 peeled and boiled small potatoes
3 cups coconut milk (3 16-oz. cans Chao Koh brand)
2 tbsp. fried shallots (already prepared or make your own)
1 tsp. salt (sea salt recommended)
Preparing the Curry Dish:
Cut meat into 2 inch thick pieces (chicken) or slices (beef). Fry the spice mixture in 2 tbsp. of the oil used for frying the shallots (if you are ambitious and have made your own fried shallots use that oil or simply use vegetable oil) adding the coconut cream (see note from Kasma below regarding coconut cream) in small amounts. Then add the chicken and cook without stirring. Spoon into a pot. Add the coconut milk and salt. Cook the meat until tender, add the potatoes. Remove from heat when done, dip into serving bowl, and sprinkle with fried shallots. Serve with cucumber relish(recipe below).
Yellow curry paste (Nam Phrik Kaeng Kari)
3 dried chilies, seeds removed, soaked in water
5 broiled shallots
10 broiled garlic cloves
1 tsp. sliced galangal,fresh or dried galangal soaked to soften
1 tbsp. lemon grass, fresh
1 tsp. broiled ginger
1 tbsp. roasted coriander seeds (dry roasted,see our site for how to)
1 tsp. roasted cumin seeds
2 tsp. curry powder
1 tsp. salt(sea salt)
1 tsp. Thai shrimp paste (kapee)
Pound or blend all ingredients until ground smooth. (Note: use an electic blender with a small container or preferably a mortar and pestle, see our granite mortar and pestle below).
Cucumber relish
Mix 1/3 cup vinegar, 2 tps. sugar; and 1 tps. salt in a pot, bring to a boil, strain and allow to cool. Slice 4 cucumbers, 2 shallots, and 1 red spur chili (mild fresh chili) just before serving and add the vinegar mixture.
Temple of Thai cooking hints:
To make the curry paste, in the mortar and pestle allow at least 20 minutes by hand, or a couple of minutes in a blender. Note that the mortar and pestle will give superior results. It should be smooth with just a hint of chile pieces.
Note from Kasma Loha-Unchit Thai cooking instructor:
"For recipes requiring coconut cream, do not shake the can before opening; spoon out the thick cream on top. On hot days, refrigerate the can so that the cream will harden and can be easily separated from the lighter milk." (see her excellent website for more information about coconut milk and Thai recipes at www.thaifoodandtravel.com)
See more Recipes for Thai curry on our website.
This recipe taken from Authentic Thai Food cookbook, published by Sangdad. You may buy this book now right from this newsletter by clicking on the green Buy_Me button below.

Authentic Thai Food cookbook $22.95
Sale price $19.95
Our most popular title! An introduction to Thai cooking: 46 recipes for appetizers, soups and currys, stir fry, and spicy salads. Sale price through February 14th.