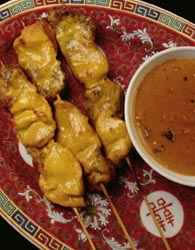 Satay
Satay is a favorite street food in Thailand. It's simple to make - marinate meat or tempeh, skewer, and grill. Serve with ready-made peanut sauce or make your own peanut sauce from scratch for a more sophisticated taste. Garnish with cucumber salad (recipe on our site) and raw cabbage.
Satay ingredients:
500 grams pork loin (about 1 lb.)
1/2 cup coconut cream (see recipe on our site)
1 tsp finely chopped fresh galangal
1 tbsp finely chopped fresh lemon grass
1 tsp finely sliced fresh turmeric (or substitute 1/2 tsp turmeric powder)
2 tsp ground roasted coriander seeds (see directions on our site)
2 tsp ground roasted cumin seeds (see directions on our site)
2 tsp ground pepper
1 1/2 tsp salt (sea salt is preferable)
Bamboo skewers
Fresh cabbage for garnish
Satay sauce ingredients:
1/4 cup red curry paste
2 cups coconut milk
1/2 cup coarsely ground roast peanut
1/4 cup sugar, 1 1/2 tsp. salt
1/4 cup tamarind juice

Preparing the satay sauce:
Mix the roasted peanut with the curry paste. Heat 1 cup of coconut milk over medium heat until oil surfaces, add the curry paste mixture and stir well. Add the remaining coconut milk, stir again, then reduce the heat. Stir constantly to prevent from sticking. Season to taste with sugar, tamarind juice, and salt. When the sauce thickens, remove and leave to cool. Stir lightly and turn out onto a sauce dish.
Preparing the satay:
Wash the pork, cut into thin slices about 1" wide and 3" long. Pound galangal, lemon grass, and turmeric finely. Toss with the pork. Add the remaining ingredients, toss well and leave to marinade for 30 minutes. Thread the meat lengthwise and char-grill over medium heat until done. Brush occasionally with the marinade.

Arrange on a serving dish, serve with satay sauce and cucumber salad. Serves 6.

Recipe copyright 2002, Sangdad Publications, Popular Thai Cuisine.

Popular Thai Cuisine
Step-by-step photographs. You'll find 111 of your favorite Thai recipes like Satay, Spring Rolls, Pad Thai, Thai Curry, and more in this excellent cookbook. Each recipe is laid out with step-by-step photos and directions with a beautiful full page photo of the finished dish. Glossy paper, softcover, 247 pages. Copyright 2002. Sale price through August 31.