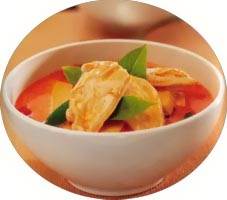 Red Curry Chicken Recipe
This authentic spicy coconut milk based red curry recipe uses homemade curry paste. Flavored with both dried and fresh spices, including fresh kaffir lime leaves and fresh sweet basil leaves, the taste is perfectly harmonious with chicken. If you are short on time, you can use canned curry paste with very good results.

To finish your dish, balance the flavors with Thai fish sauce, adding to taste. Freeze any leftover curry paste for up to 2 months in a ziplock bag in tablespoon portions. Serve the curry with steamed jasmine rice and fresh raw or steamed vegetables.
Red Curry Chicken Recipe ingredients:
1 lb (400 grams) boneless chicken breast
1 (20oz) can, drained bamboo shoots, sliced (or 300 grams fresh)
3 tbsp homemade red curry paste (recipe on our site), or canned red curry paste
2 cups canned coconut milk
1/2 cup sweet basil leaves, torn
2 tbsp fish sauce (nam pla)
1/4 tsp sea salt
1 1/2 tsp palm sugar
Sweet basil leaves for garnish

Wash the chicken, slice diagonally into 1/3" thick, 1" wide and 1" long pieces. Thinly slice the bamboo shoots Pour 1 cup of coconut milk into a wok. Bring to a boil over medium high heat, stirring constantly. Add the curry paste, stir until red oil comes to the surface. Add the chicken and saute until it turns white and is cooked through. Add the remaining coconut milk, follow with the bamboo shoots. Season with fish sauce, sugar, and salt and bring back to a boil. Sprinkle with kaffir lime leaves, chilies, and sweet basil leaves. Turn off the heat. Arrange on a serving dish and garnish with sweet basil leaves before serving. Serves 5.

Red Curry Chicken Recipe from Step-by-Step Cooking Series, Popular Thai Cuisine now on sale for $29.95.
Sangdad Books, Copyright 2002.

Step-by-Step Cooking Series, Popular Thai Cuisine
Sale $29.95 (normally $36.95)
111 of your favorite Thai recipes like Satay, Spring Rolls, Pad Thai, Thai Curry, and more in this gorgeous cookbook. Each recipe is laid out with step-by-step photos and directions with a beautiful full page photo of the finished dish. This wonderful book makes an impressive holiday gift. Now on sale for only $29.95 until November 30!