The Nittaya Thai Curry Paste Factory in Action
Nittaya Thai Curry Paste is one of the most famous and popular brands of curry pastes available in Thailand. This family-owned company produces a full line of top quality pastes ranging from the ever popular green curry paste to perhaps less well known in the West, chili paste in oil (nam prik pao). Temple of Thai has sold the Nittaya brand for over 10 years, importing by air directly from Bangkok to our fulfillment team in Los Angeles to insure the freshest possible paste.
Pree, the owner's daugther, recently took Temple of Thai on a tour of the facility, located north of Bangkok. Pree's aunt, who studied to become a doctor, started the company in 1964. Today the company produces Nittaya Thai Curry Pastes, traditional Thai medicines, herbal Thai cosmetics, and even has a major restaurant chain, Nittaya Kai Yan, serving a menu of traditional Thai food.
To see the factory in full swing, my visit started at 5am, when workers begin processing the ingredients which have been prepared the day before. The galangal and lemongrass arrive fresh daily at dawn. Workers cut off by hand the tops and tough outside stalks of the lemongrass and long roots of the galangal. The herbs are then put into long stainless steel tubs, washed with multiple high-powered spigots and drip dried. Because these are fibrous herbs, they require more processing then the other paste ingredients. To begin the breaking up process, these herbs are first processed in a grinder. Once the lemongrass and galangal are ground up they can be added to the other ingredients which make up a Thai curry paste e.g. dried whole red chilies, fresh turmeric root, shrimp paste (kapee), sea salt and various spices depending on which type of curry paste is being produced.
Nittaya's nam prik pao and Massaman curry pastes require additional cooking steps
This partially pulverized paste is then fed into a grinding machine by two employees with a large metal spatula for further processing. Once the paste reaches a fine consistency, it is moved to another machine for an additional hour of mixing. The paste is then transported to a holding room, redolent with the smell of delicious spices and herbs. Large stainless steel bowls about 3 feet across hold the various colorful green, yellow and red pastes, until packaging. It would have been ideal to show a picture of this but unfortunately photography is not allowed in the factory.
Because Nittaya's recipes for Massaman Curry Paste and Chili Paste in Oil (nam prik pao) require additional cooking steps, these pastes are processed in a separate room from the other fresh curry pastes. The flavors of these pastes rely on dried whole spices, which must be roasted before grinding to bring out their best flavor. Then the pastes are cooked to draw out their oils. Finally, palm sugar goes into the mix at the end. These two pastes require a lot of work, and it may be hard to beat the specialists if you are making your own!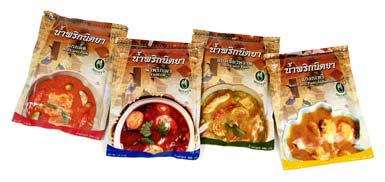 Nittaya Curry Paste
"I was born with curry and I will die with curry!"
The finished pastes then go into the packaging room where they are vacuum sealed in clear plastic pouches and each pouch then passes through a metal detector before going into the final packing room. Here the pastes are put into their respective colorful retail packages and packed into cardboard cartons for shipping worldwide from Bangkok to Los Angeles and eventually into your kitchen!
After seeing their factory and again tasting their delicious curries, we feel even more fortunate to be given the opportunity to work with the Nittaya family. As Pree says, "I was born with curry and I will die with curry!". We here at the Temple of Thai share the Nittaya's family passion, where a day without curry is a day that never should have happened!
You can purchase the fresh Nittaya Curry Pastes in our online grocery for Thai and Asian food, kitchenware and cookbooks.
Three Popular Thai Curry Recipes
Image Copyright © 2012 First image, Temple of Thai, second image, © kaewjack / 123RF Stock Photo; third image © siamphotos / 123RF Stock Photo; bottom 3 images, please follow the links to the page.