Perfect Pad Thai Recipe
Pad Thai, a flavorful combination of stir-fried noodles, tofu, bean sprouts and egg is one of Thailand's best-known noodle dishes. This dish, as with many Thai food dishes uses the combination and balance of salty, sweet and sour to great effect. We have put all the necessary ingredients for this recipe into our Perfect Pad Thai Kit and is available in our online grocery.
Prepare this Perfect Pad Thai Sauce to keep on hand so that you can whip up Pad Thai Noodles any time.
Ingredients for Perfect Pad Thai Sauce:
1 cup tamarind juice/water (see recipe below)
1/2 cup Thai Fish Sauce (Golden Boy brand)
1 cup palm sugar
1 cup water
Preparation for Pad Thai Sauce:
Prepare tamarind water (see recipe below).
Mix the tamarind water with fish sauce, and palm sugar. Stir well to dissolve sugar.
Cook over low heat and stir, cook for 45 minutes until syrupy. Set aside.*
Note: If you are in a rush, use our already prepared Pad Thai Sauce.
*Our Perfect Pad Thai Sauce can be stored refrigerated tightly sealed for up to 3 months. This recipe will make enough for preparing Pad Thai several times. Bring to room temperature before using.
Ingredients for Pad Thai Noodles:
8 oz. medium Asian Rice Noodles (Thai Farmer Brand)
approximately 4 tbsp. peanut oil or other vegetable oil
1/3 lb. frozen shrimp or pork
3/4 cup firm tofu, cut into 1 1/2" x 1" x 1/4" pieces
4-5 cloves garlic, finely chopped
3 shallots, thinly sliced
1/4 cup Dried Shrimp, soaked in warm water
1/4 cup chopped Pickled Radish/Turnip
2-3 tsp. Dried Whole Red Chili Peppers
3 eggs
3 cups bean sprouts
1 cup garlic chives, cut into 1 inch lengths (or scallions)
8 tbsp. of the Perfect Pad Thai Sauce from above
Garnish:
2/3 cup Peanuts with Skin, roasted and crushed
1 lime, cut into wedges
4 scallions
Preparing Pad Thai
Presoak noodles: Soak the rice noodles in cool or lukewarm water for at least 40 minutes, until the noodles are limp but still firm to touch. When the noodles have softened, drain and set aside. While the noodles are soaking prepare the rest of the ingredients.
Prepare Pad Thai ingredients: Peel and devein shrimp leaving the tails on if desired. Brine the shrimp if desired for moister and tastier shrimp by dissolving 1/4 cup sea salt in 4-8 cups of water. To dissolve the sea salt, boil one cup of water first and stir in salt. Then add cool water and ice if needed to bring down the temperature. Submerge shrimp in a salt and water solution in a refrigerated container for 30 minutes. Drain, pat dry and set aside.
If using pork, slice into 1x1/2x1/4 inch slices. Set aside.
Prepare tofu, garlic, shallot and dried shrimp, garlic chives, scallions and lime and set aside.
Roast raw peanuts in a 350 F oven for 3 to 5 min.; remove from oven and cool slightly; rub between fingers to remove skins. Crush peanuts with a mortar and pestle lightly to break up. Set aside.
Prepare Pad Thai: Heat a large wok or 12" skillet over high heat and add 2 teaspoons of cooking oil. Cook shrimp until pink or pork until brown and almost cooked through. Remove from wok and set aside.
Add 2 tbsp. of oil to the wok, and let the wok heat up again. Add the tofu and stir fry until golden brown, about 2-3 minutes. Add garlic, shallots, dried shrimp, sweetened radish and ground dried chilies. (Important Note: unless your wok is very large, it is best to stir fry noodles in 2 batches by removing half of the tofu-dried shrimp mixture and setting aside.)
Add the noodles and combine with other ingredients. Stir fry 1-2 minutes until softened. Push up along one side of the wok. Add a teaspoon of oil, pour in the eggs and cook to set. Cut eggs into small chunks with a spatula and toss with the noodles.
Add the prepared Pad Thai Sauce and stir well to coat noodles. If noodles are too firm for your liking sprinkle with 1-2 tbsp. water to help cook. Taste and adjust flavors if desired.
When noodles are cooked to your liking, toss in bean sprouts and garlic chives. Sprinkle with half of the chopped peanuts and add cooked shrimp or pork. Stir and when vegetables are partly wilted transfer to serving dishes.
Garnish with lime, bean sprouts, scallions, dried ground chilies and chopped peanuts.
Serves 4.
Recipe & Images © Temple of Thai 2005
Thanks to Kasma Loha-Unchit for the noodle soaking and cooking advice. And thanks to Pamela Lee, Moscow Food Coop for the shrimp brining process.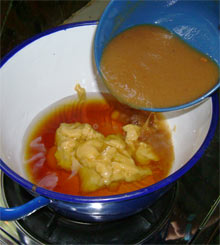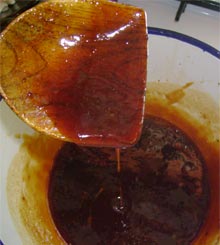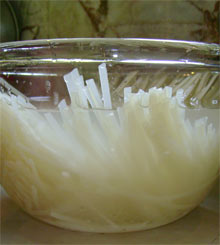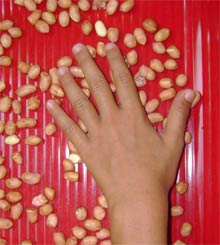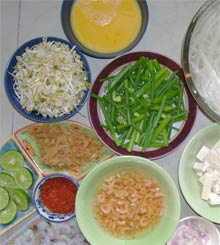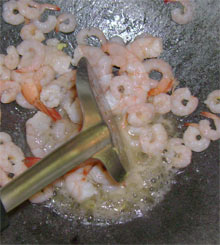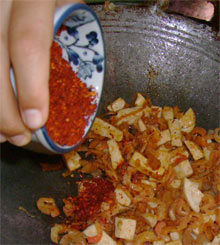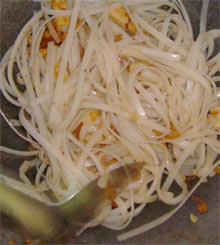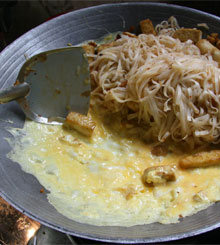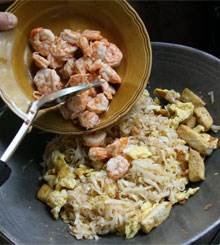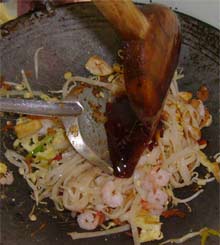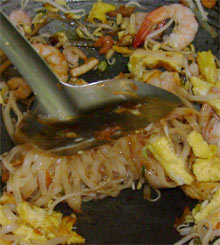 Tamarind Water or Concentrate
6 tbsp. Tamarind Paste (without seeds)
1 cup warm water
Soak the paste in the warm water for 5 minutes. Squeeze the fiber with your fingers to extract as much juice and flavor as possible. Strain and discard fibers.