Creative Pumpkin Carving by American Chefs
Pumpkins, gourds and watermelons have become the medium of professional culinary carving artists and chefs who are turning ordinary earthy vegetables into perishable works of art. At this time of year in the states, Fall fruits and vegetables are going under the carving knife to become transformed into glowing jack-o-lanterns decorated with fancy floral patterns and cute cartoon characters.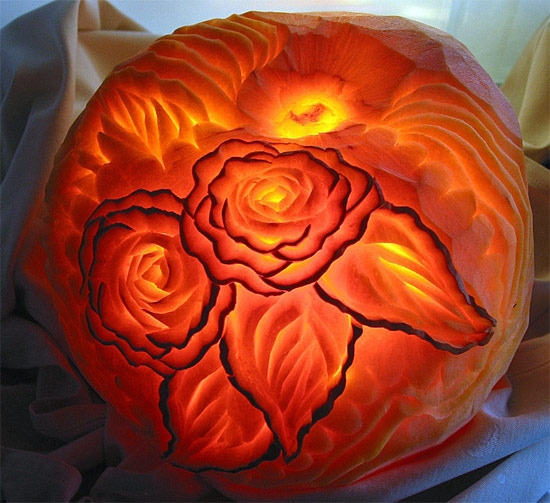 Find inspiration for your own Halloween Pumpkin Carvings with these original Pumpkin Carving ideas, designs, and patterns from two American chefs. If you are planning an Autumn-themed party consider decorating your tables with these artistic modern pumpkin carvings from Chef Ray Duey (aka Chef Garnish) and Chef Carl Jones (owner of Premier Place Catering).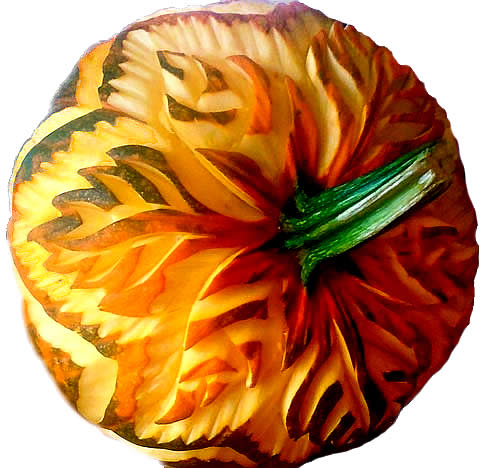 We sell Chef Ray's DVD and the tools he recommends so that you to can learn how to carve floral bouquets without having to spend too much time.
We also told you about the Carve III event held in Michigan at the end of last month, in that blog post.  Professional carver, Nita Gill won first prize for the People's Choice. See THE CARVE Vegetable Carving Competition – People's Choice Division – Winner's and Competitors for images. If you would like to learn how to carve at this level, we will be adding Nita's easy carving DVD (Hearts and Roses Vegetable and Fruit Carving Video) to our online store this week (and I will post that here when it is ready for purchase online).
Here's another TV Clip from Chef Ray Duey with his unusual negative process Carved Pumpkins featuring carved personality silhouettes made with a small hand-held drill (see our earlier post for another clip).
If you are curious about Halloween celebrations in Thailand see our Facebook page for an amusing video of a ghoulish wedding and about the Thai's love of horror movies (and please join us!). For pumpkin recipes, see our page, Thai Pumpkin. Happy Halloween!