Thai Fruits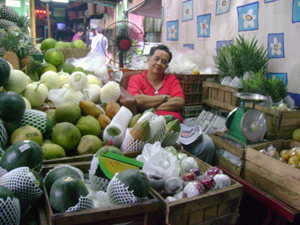 In the Thai countryside, fruit trees such as rambutan, durian, chompoo (rose apple), pineapples, bananas, mangoes, and papayas flourish. The town market is rich with an ever changing array of exotic seasonal fruits. Hundreds of types of fruits with several varieties of any given fruit are cultivated.
Fruits are even suitable for both cooking and eating raw. Fruits are often added to curries and savory dishes, like sour curry. Fruits including mango, watermelon, banana, and many other foreign to the West are often eaten after meals and as snacks.
Exotic favorite fruits include: durian, also knows as the King of Fruit; mangosteen, sometimes called the Queen of Thai Fruits; rambutan, lychees, loquats, rose apples, and much more.
Shop for fresh Sweet Tamarind, canned Thai Fruit and fresh Young Green Coconuts.