Thai Iced Tea Recipes (Chaa Yen)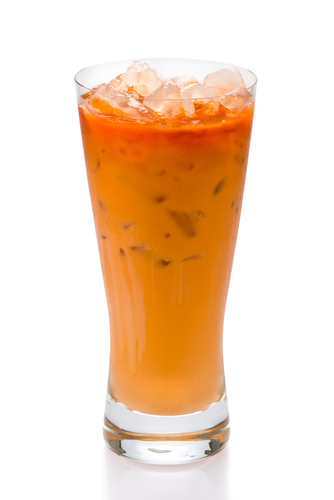 Kasma's Thai Iced Tea Recipe
Thai iced tea, Cha Yen or Chaa Yen in Thai, is a popular drink widely available in small restaurants and street stalls in across Thailand. This simple tea recipe comes from Kasma Loha-unchit, Thai cooking teacher and cookbook author.
Directions for Ice Tea:
"I make it using a traditional Thai tea steeper: it is a tubular filter made of white muslin or cotton attached around the top to a metal ring that has a handle.
Balance the filter ring above a tea or coffee pot. Fill filter with the desired amount of tea. Pour in boiling water and steep to desired strength. Make the tea strong because it will be diluted later with milk and ice.
You may also use a coffee filter, but you'll need to use more tea mix to get the strength you wish.
Sweeten the tea partially with sugar and finish off by adding sweetened condensed milk to taste. Pour over a glass of ice. Top with evaporated milk.
Take note that the rich orange color of the tea is from food coloring. The tea mix is made of black tea roasted with anise or licorice flavorings."
Thai Iced Tea Recipe #2
Bring 6 cups of water to boil. Add 1-1/2 cups Thai tea to a large pitcher and pour over the hot water. Stir well for about half a minute until the liquid is dark brown. Stain the tea into another pitcher using either a traditional Thai cloth tea strainer or a fine sieve. A large Melitta coffee filter would work also. Add sweetened condensed milk to taste. Stir well. Cool to room temperature. To serve, pour over a full glass of ice. Top with unsweetened condensed milk if desired. The resulting tea should be dull orange.
To purchase Thai tea, coffee and other drinks, please visit our Thai beverages section.
Recipe #1 © 1997 Kasma Loha-unchit; Image © Glenn Price. Used under license from Shutterstock.com