Pum's Lazy Thai Cuisine

,

Pum Thai Food Chain Co, Ltd.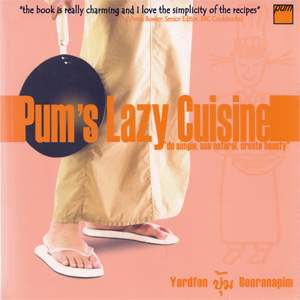 Thai Chef Pum's Lazy Thai Cuisine cookbook, was written to inspire those who feel that they do not have enough time to cook. Pum starts out with her own story of how she learned to cook from her family in Thailand in the traditional manner and then developed her own 'lazy' cooking style (i.e. time-saving) when she moved to England to study and joined the modern fast-paced life of a university student.
To get started, Pum explains how to set up your kitchen as simply as possible, suggesting a wok, a mortar and pestle, and rice cooker as the bare minimum tools for basic cooking along with the usual utensils already found in the Western kitchen. A glossary of herbs and spices discusses in brief the various chilies used in Thai cooking and spices which may be unfamiliar to the Western cook, including galangal, kaffir lime leaf and Thai sweet basil. Thai sauces, vegetables and other commonly used ingredients are also listed for quick reference.
In the recipes you will find simplified favorites like Satay and Tawt Mon Plah (Thai fried fish cakes) in the starters section, Pad Thai Noodles and Green Curry (aka 'green lipstick in Pum's terminology) in the main dishes. Just one straight-forward and easy to follow recipe features in the desserts recipe section - Sticky Rice with Mango - a tried and true favorite. Curry paste and dips include recipes for Green Curry Paste and Nam Prik Pao(Roasted Chile Paste). See a complete list of the Thai recipes in this cookbook below.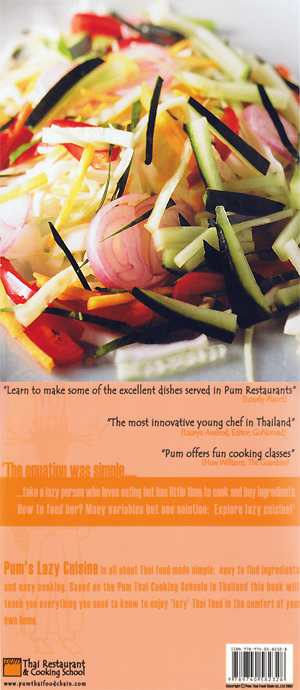 Books details: High quality paperback with glossy full color pages; dimensions 17.5cm x 17.5cm; 112 pages. © 2003
See an easy Thai recipe from this cookbook for Pum's Thai Lemongrass Salad.
Thai recipes included in this cookbook:
Chicken Satay
Fried Fish Cakes (Tawt mon plah)
Fried Rice with Green Curry
Andaman Fried Rice
Pum's Phad Thai
Phad Siew Noodles
Raad Nah Noodles
Rice Soup (Khao dthohm)
Thai Noodle Soup
Green Curry with Chicken
Chicken in Coconut Milk Soup (Tom Kha Gai)
Hot and Sour Prawn Soup (Tom Yum Goong)
Chicken with Cashew Nuts
Vegetables with Cashew Nuts
Pork/Beef Fried in Nam Prik Pao Chili Paste
Vegetables Fried in Nam Prik Pao Chili Paste
Fried Meat or Vegetables in Sweet and Sour Sauce
Fried Mixed Vegetables
Pum's Special Dancing Fish
Chicken with Garlic and Pepper
Mango with Sticky Rice
Nam Prik Pao Chili Paste
Green Curry Paste
Red Curry Paste
Pum's Lazy Dip
Red Curry with Chicken
Panang Curry with Chicken
Also see Pum's Wok the World cookbook.
Purchase both cookbooks for a discounted price.
Availability: Ships in 2-3 business days from Los Angeles, California.
Category: Asian Cookbooks
SKU: 7010000462