How to make Perfect Pad Thai: Roasting Peanuts
Continuing on with our step by step how to cook Thai videos for our Perfect Pad Thai recipe, this short video shows how to roast and prepare peanuts. Roasting your own peanuts to use in Thai cooking is much more delicious, with no salt added, compared to buying already roasted off-the-shelf. Also it insures their freshness without any preservatives.
To find out how to make Tamarind Water which is also part of our Perfect Pad Thai recipe, please follow the link.
To find all the authentic Thai ingredients needed to make our Perfect Pad Thai, you can find our PAD THAI KIT here.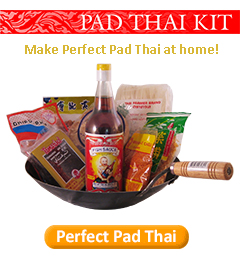 Follow us at Pinterest, YouTube or Facebook. See more authentic Thai recipes in our recipe section. Or join our Thai Food & Recipes community at Google + to get in on the discussion and share your own Thai recipes and cooking tips. Thanks for watching. We would love to hear from you!