Thai Dessert Square Tray

,

Product of Thailand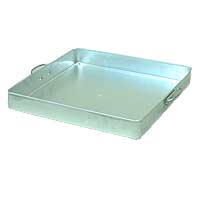 Thai Dessert Square Tray is used for keeping some Thai dessert in square shape prepared for cutting in small square pieces like thai sweetmeat, any kind of agar, pudding, or sweetened sticky rice dessert topped with black bean or thai custard. It is made of aluminum, so it's very easy to clean and also light weight. It is 11 by 11 inches width and 1.5 inch depth.
Availability: Ships in 2-3 business days from Los Angeles, California.
Category: Thai Dessert Cookware
SKU: 6260000567