Foi Thong Maker

,

Product of Thailand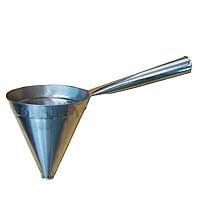 Foi Thong is a Thai delicacy, which symbolizes longevity and everlasting love, because of its long strands. This sweet is prepared from egg yolks and sugar spun into angel hair fine threads and it looks rather like fine spaghetti squash. It is part of a typical group of golden Thai desserts (which includes Thong Yip) and the word thong means gold in Thai. Also known as golden threads or sometimes golden hair, it is very delicious.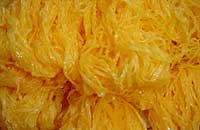 Details: stainless steel, 4 holes.Opening approximately 3.5 inches; depth 4 inches; handle length 4.5 inches. Capacity one cup. Imported from Thailand.
Availability: Ships in 2-3 business days from Los Angeles, California.
Category: Asian Cookware, Thai Dessert Cookware
SKU: 6210000558