Thai Snack Kanom Buang Tool

,

Product of Thailand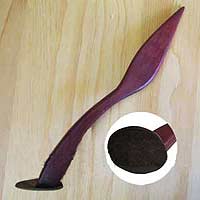 Thai style dessert taco called Kanom Berng normally stuffed with foi thong threads or seasoned coconut slice. With this tool, you can make kanom berng at home easily.
Dip the tool with mixed flour and flat in a circle on flat stove and wait until the flour is cooked, put the stuff in the middle and fold in a half. That's a very easy way to taste crispy dessert.
Dimensions: Disc width 1 3/4 inch, length 9 inch
Availability: Ships in 2-3 business days from Los Angeles, California.
Category: Thai Dessert Cookware
SKU: 6210000559