Rice Serving Bowl

,

Imported from Thailand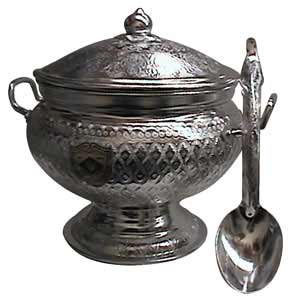 Our beautiful imported Rice Serving Bowl will transport your dinner guests to exotic South East Asia. Made in Thailand, this authentic impressed aluminum rice server holds up to 5 cups of steamed jasmine rice. Serving spoon is included.
This Asian patterned bowl can also be used to serve Western-style soups or even punch! Or use it for arrangements of dried flowers, stones and wood.
Material: Aluminum (7 inch diameter).
Availability: Ships in 2-3 business days from Los Angeles, California.
Category: Serving Bowls & Baskets
SKU: 6210000300