Sizzling Platter

,

Product of China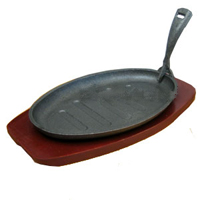 This versatile cast-iron Sizzling Platter (aka sizzler plate) is ideal for the stove top, oven, broiler or grill and will develop a natural non-stick finish over time. It is designed to be used for both cooking and serving.
Sizzling Platter cooking is becoming popular in restaurants specializing in Asian and especially Japanese foods and it is used for dishes like Sizzling Beef with Rice Curry, Udon Noodles, Beef Steak with Teriyaki Sauce, Tonkatsu, Hamburger with Egg and Yakisoba. In Japan a growing restaurant chain called Pepper Lunch specializes in these type of dishes and has expanded to Thailand, Hong Kong, Taiwan, Indonesia, Philippines and Malaysia. They say the secret to their success is that meat grilled at a high temperature, remains tender and juicy, while the iron plate keeps the food warm for a longer time so that their customers can enjoy the full flavor of the dish.
To achieve the exciting sizzling sound when serving, place the platter under a hot broiler until hot, then arrange cooked foods on top just prior to serving with a touch of cooking oil. Bring to the table on the wooden trivet to protect counters and tables for serving.
The cast iron sizzle plate has also been made popular by Chef Emeril who suggests using it to cook fajitas, steaks, seafood and vegetables.
Before using cast iron cookware it is important to pre-treat it to create a non-stick surface. Please be sure to see our site for more details. Also when cleaning after use, we recommend not using soap to retain the nonstick surface.
Availability: Ships in 2-3 business days from Los Angeles, California.
Category: Grills, Hot Pots & Platters, Serving Bowls & Baskets
SKU: 6270000420