Stainless Steel Food Carrier (Tiffin)

,

Seagull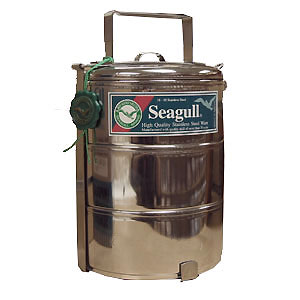 The Thai Food Carrier (rod nam dum hua in Thai, tiffin or bento box) has been traditionally used to pack and tranport meals eaten away from the home in Thailand. This stackable metal lunchbox container is still in use by Thai people to carry food to the temple (wat), by farmers for carrying meals to the field or by school children for school lunches.
Convenient for modern people, the tiffin can be used to pack an environonmentally friendly lunch or picnic or to bring prepared dishes to a pot-luck. Or bring it along to your favorite takeout restaurant next time and forego the plastic containers.
The tiffin is a series of stacked containers secured by a tension clip on the side. Each compartment can be filled with a separate food or soup. For instance in Thailand a tiffin may carry a curry dish, a clear soup, fried fish and jasmine rice. The container should be carried upright to avoid spilling as it is not completely sealed.
In the recent past most Thai people grew, caught, and processed their own food and cooking was done in the home. As there were few restaurants or street vendors in these times, it was necessary to carry your own meals for travel. This type of food carrier was an therefore an essential piece of kitchenware, because restaurants and street vendors (hawkers) did not flourish in Thailand until the development of the modern market system.
Details: Stainless steel, dimension 14 cm with 3 individual tiers. Product of Thailand. Dishwasher safe. To heat up at work use a toaster oven as these containers cannot be used in the microwave.
Also see our Traditional Thai Food Carrier.

Availability: Ships in 2-3 business days from Los Angeles, California.
Category: Serving Bowls & Baskets, Cooking Utensils
SKU: 6270000540