---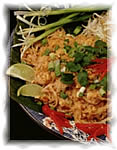 Cook delicious Pad Thai Noodles at home with these ready-prepared sauces. Don't forget the rice noodles! Or try our Pad Thai Kit if you want to make it authentic!
Ingredients for authentic Pad Thai include fresh or dried rice noodles (which are made from gluten-free rice flour), tamarind water (or lime or vinegar), coconut palm sugar, eggs, freshly roasted peanuts, fish sauce, bean sprouts, fresh and/or dried shrimp, garlic, shallots, dried chilies and lime juice.
For more info about Pad Thai and recipes read our Pad Thai article.
---
From Cook's Illustrated,
"The ethnic food section in most grocery stores is expanding by leaps and bounds, but many markets don't carry the ingredients necessary for pad thai. While rice stick noodles and fish sauce should be easy to find, dried shrimp, tamarind paste, and salted radish may require some searching. We found everything we needed - without ever leaving the test kitchen - at the web site for Temple of Thai. The company carries an extensive line of Thai products, including sauces, noodles, cookbooks and equipment."