Korean BBQ Grill Stove Top

,

Product of Korea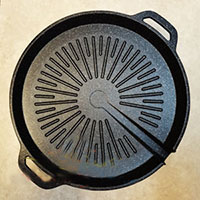 This Korean BBQ grill is suitable for friends and family party where everyone can enjoy grilling time together at the table. Use it for preparing any type of Asian barbecue tableside.
Dimension: 13 inches. Product height with legs around 3 inches. Material: Quintuple marble-coating with Nano-Silver for antibacterial-anti moisture. FDA-approved coating material, Two-tone marble coating (Gold + Silver) for ease of cleaning.
Also see Thai-style BBQ grill.
Availability: Ships in 2-3 business days from Los Angeles, California.
Category: Grills, Hot Pots & Platters
SKU: 6200000908