Pro-Slice Vegetable Peeler (Pink)

,

Kiwi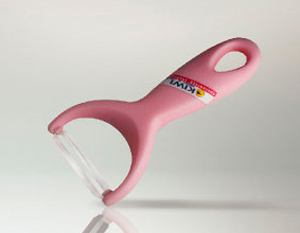 Commonly available throughout Thailand, the Pink Pro-Peeler can be found in even the smallest of convenience stores throughout Thailand. Cheap, affordable, and easy to clean, Kiwi products are tools that you just can't go wrong with.
This Pink Pro-Peeler (Kiwi #217) is a sharp slicing tool used to perform the common task of peeling fruits and vegetables. It has a 2 inch blade and an overall length of 5.5 inches. With its long, flat stainless steel blade, the Pro-Peeler is a high quality peeler designed to reduce fuss and to endure repeated long term usage. Kiwi is a very popular brand in Thailand because it sells high quality products at affordable prices. As such, Pink Pro-Peelers and Blue Pro-Slices have become common household items throughout the country. Pro-Peelers are especially useful for fruit and vegetable carving. With a brisk motion one can cut away a long wide strip of melon or pumpkin and prepare the basic foundations of a carving in mere seconds. This is an essential household item made to a very high standard and designed to be dishwasher safe and to endure constant daily wear and tear.
Product Features
Imported from Thailand
Excellent Value for money
Razor sharp slicing tool
Designed to last
Dishwasher-safe plastic handle
Availability: Ships in 2-3 business days from Los Angeles, California.
Category: Cutters, Peelers & Graters, Peelers & Slicers
SKU: 6252100201
UPC: 88511300507