Sticky Rice Serving Baskets, Set of 4

,

Product of Thailand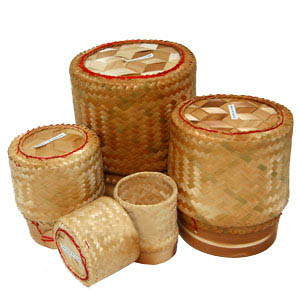 Homes and restaurants in the North and Northeast of Thailand usually serve steamed sticky rice in these covered small round baskets (กระติบ grateep in Thai), placing them around the dining table. This keeps the sticky rice warm and moist, allowing the rice to breath. Sometimes these Rice Storage Boxes or Baskets are lined with small plastic sandwich bags to make clean up easier. These baskets are perfect for picnics and kids who love sticky rice will love it even more when served their own little basket of rice.
To remove any odor before using allow the basket to sit for a few days with a baking soda and water paste. Then scrub and rinse well before using.
Also see Sticky Rice Serving Baskets (Set of 3) and Colorful Sticky Rice Serving Baskets.
Availability: Ships in 2-3 business days from Los Angeles, California.
Category: Serving Bowls & Baskets
SKU: 6200000792