Sticky Rice Serving Basket (Square)

,

Product of Thailand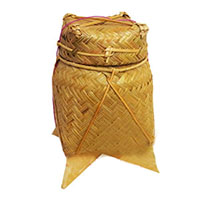 Use this Square-shaped Bamboo Sticky Rice Basket to serve sticky rice. Covered with a lid the sticky rice is kept moist longer. To make clean up easier and to keep the rice moist longer try lining the rice container bottom with small plastic sandwich bags or squares of cheesecloth. Serving in a covered basket is the traditional way to serve sticky rice in Isan (Northern East Thailand), the Northern Chiang Mai region (Lanna) and also in the country of Laos.
Before using the basket, to remove any odors, allow the basket to sit for a few days with a baking soda and water paste. Scrub and rinse well. This can be done at anytime a thorough cleaning is needed.
Also see Round Sticky Rice Serving Basket.
Availability: Ships in 2-3 business days from Los Angeles, California.
Category: Serving Bowls & Baskets
SKU: 6210000801