Kae-Sa-Luk: The Thai Art of Fruit and Vegetable Carving DVD

,

Pam Maneeratana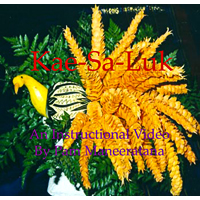 This instructional fruit carving DVD teaches the fundamental techniques needed to practice the art of fruit and vegetable carving. Through step-by-step instruction, you will be guided to learn Kae-Sa-Luk, the ancient Thai art of fruit and vegetable carving the way the Thai people have been taught from one generation to the next.
Thai fruit & vegetable carving master, Pam Maneeratana, takes a hands on visual approach to teach this unique art in this DVD. Follow along as she takes you through six different carving projects designed to teach you all the fundamental techniques of fruit and vegetable carving.
You will learn how to carve fruit and vegetables through the lessons covering a carrot pine cone, intricate leaves, a beet root rose, an acorn squash container and also pumpkin and watermelon carving. This DVD also includes Pam's biography, carving tips, a short history of the art of Kae-sa-luk and a photo gallery of Pam's carving creations.
In just the first lesson, you will start with basic knife skills and then learn to carve a carrot into a beautiful pine cone. Each step in the various projects will teach you a different basic technique to help you build the skills necessary for mastering this fine art. Pam makes learning the techniques easy as she reveals the secret Asian techniques passed on to only a select few masters of Kae-Sa-Luk.
Together with Pam, a little practice and patience, you too can enjoy the art of fruit carving and make beautiful creations that even the Thai masters will admire. By learning from Pam Maneeratana, the 700 year old Thai art of fruit and vegetable carving becomes accessible to you in easy to follow step-by-step instructions. The knife which Pam uses for most of her carvings in the DVD is the Kom Kom brand, Bird's Beak Knife, available for sale here.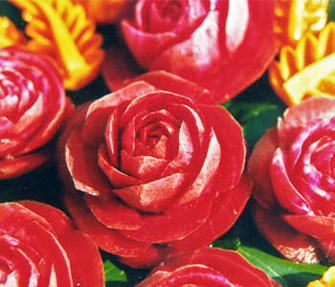 Projects on the DVD:
Lesson 1
Carrot Pine Cone
Carrot Leaf
Acorn Squash Dip Bowl
Beet Root Rose
Lesson 2
Watermelon Rosebud Candle Holder
Lesson 3
DVD Details
Length: 75 minutes
Produced: 2008
Format: DVD-R
Availability: Ships in 2-3 business days from Los Angeles, California.
Category: Fruit Carving DVDs
SKU: 7100000381