Art of Watermelon Carving

,

Pam Maneeratana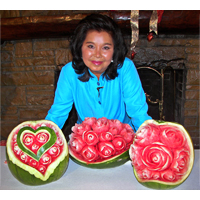 In this fruit carving DVD, master Thai carver Pam Maneeratana, demonstrates how to create beautiful watermelon centerpieces. Watch as Pam reveals the traditionally secret, advanced carving techniques using just two types of carving knives to carve various watermelon centerpieces.
Pam breaks down and explains each step in creating the rosebud, blooming rose, and chrysanthemum patterns, which are three of the most advanced patterns of fruit carving. In three separate lessons, Pam makes learning these difficult patterns easy by starting with the basic knife skills and then teaching the underlying skills and concepts that are the fundamentals of this secret art.
Pam Maneeratana is a master of Kae-Sa-Luk, the ancient Thai art of fruit and vegetable carving. She has perfected her art for more than 28 years and now finally reveals the secrets of her more advanced techniques which no one has ever revealed before. This DVD covers the most advanced carving techniques that require basic carving skills. Pam says that the techniques in this DVD were discovered by herself after several years of practicing, because traditionally in Thailand no one would ever reveal these techniques except to loved ones.
Together with Pam, a little practice, and a little patience, you too can enjoy the art of Kae-Sa-Luk, and make beautiful fruit carving creations that even the Thai masters will compliment. The knife which Pam uses for most of her carvings in the DVD is the Kom Kom brand, Bird's Beak Knife, available for sale here.
Length: 90 minutes
Produced: 2008
Format: DVD-R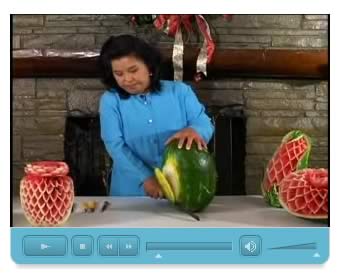 Availability: Ships in 2-3 business days from Los Angeles, California.
Category: Fruit Carving DVDs
SKU: 7100000382