Pok Pok Thai Cucumber Salad (Ajaat)
A Thai Recipe from Chef Andy Ricker's New Pok Pok Cookbook, Satay Part 3 of 3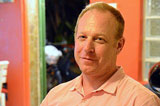 This is the third part of Chef Andy's recipe for Muu Sateh in 3 parts: Cucumber Salad, from his new Pok Pok Cookbook.
To make a complete dish as you would find served in Thailand by your favorite street vendor, see the Pok Pok recipes for Pork Satay (Muu Sateh) and Thai Peanut Sauce (Naam Jim Sateh).
Let us do all the shopping for you! We've worked with Chef Ricker to create a kit with the essential ingredients you'll need for making Pok Pok Muu Sateh.
Cucumber Relish Recipe (Ajaat)
Ingredients
8 ounces medium, crisp, thin-skinned cucumbers, quartered lengthwise and cut into 1/4-inch-thick triangular slices (about 1 1/2 cups)
3 ounces peeled small shallots, preferably Asian, cut into pieces about the same size as the cucumbers (about 3/4 cup)
6 grams fresh red Thai chiles (about 4), thinly sliced
1/2 teaspoon kosher salt
6 tablespoons white vinegar, preferably a Thai brand
1/2 cup water
A generous 1/4 cup cilantro leaves, lightly packed
Preparation
Combine the cucumbers, shallots, and chiles in a serving bowl. In a separate bowl, whisk together the vinegar, sugar, salt, and water until the sugar has completely dissolved. Pour enough of this mixture into the bowl with the cucumbers to cover them and stir well.
The relish will be ready to eat after just a few minutes. You can also cover and store it in the fridge for up to 1 day. Sprinkle with the cilantro leaves right before serving.
Serves 4.
See the other parts of this recipe: Thai Pork Satay (Muu Sateh) and Peanut Sauce (Naam Jim Sateh) to follow the other parts of this Pok Pok recipe.
Image of Andy Ricker By Takeaway (Own work) CC-BY-SA-3.0 via Wikimedia Commons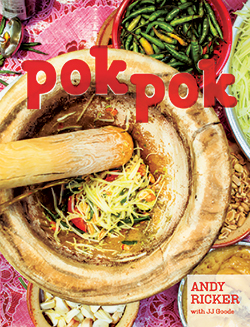 Pok Pok: Food & Stories from the Streets, Homes, & Roadside Restaurants of Thailand
The Pok Pok Cookbook is available at Portland's finest independent bookstore, Powell's Books and wherever books are sold. Pre-order now, shipping after October 29, 2013. Order 2 copies for free shipping from Powell's, see their site for details!
Authors: Andy Ricker with JJ Goode
Recipe & Image Copyright © 2013 Pok Pok: Food and Stories from the Streets, Homes, and Roadside Restaurants of Thailand; Images and Recipes are used with permission; published by Ten Speed Press; ISBN 9781607742883