Pok Pok Tamarind Water (Naam Makham)
A Thai Recipe from Chef Andy Ricker's Pok Pok Cookbook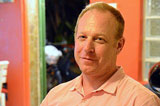 Tamarind water (naam makham) is a basic part of Thai cooking and is used in both the Peanut Sauce recipe which accompanies the the Pork Satay (Muu Sateh) and also for making the Pok Pok Papaya Salad (Som Tam) which is part of the Coconut Rice & Sweet Pork (Khao Man Som Tam) menu. This recipe comes from the Pok Pok cookbook, by Andy Ricker.
Let us do all the shopping for you! We've worked with Andy Ricker to create sets of essential ingredients for two Pok Pok dishes, see the Mu Sateh Kit and Papaya Salad Kit.
Tamarind Water (Naam Makham)
Special equipment
Ingredients
4 ounces seedless tamarind pulp (also called tamarind paste)
3 1/2 cups water
Make the Tamarind Water
Combine the pulp and the water in a medium pot. Bring the water to a boil over high heat, breaking up the tamarind (preferably with a sturdy whisk) as it softens, then immediately turn off the heat, cover the pot, and let the mixture sit until the tamarind is very soft, about 30 minutes. There's no need to skim off the foam that may form on the surface.
Use a whisk or wooden spoon to mash and stir to break up any large clumps, then strain the mixture into a bowl through a mesh strainer, stirring, pressing, and smashing the solids to extract as much liquid as possible. There may be pulp clinging to the outside of the strainer. Add that to the bowl too. Discard the remaining solids. Stir well before each use.
The tamarind water keeps in the fridge for up to a week and in the freezer for up to 3 months. Freeze it in small portions, perhaps in ice cube trays (transferring the cubes to airtight containers once they're frozen).
Yield: About 3 cups
Image of Andy Ricker By Takeaway (Own work) CC-BY-SA-3.0 via Wikimedia Commons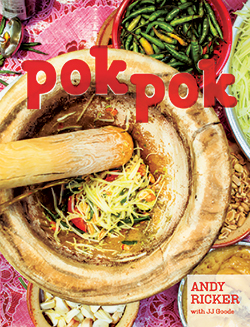 Pok Pok: Food & Stories from the Streets, Homes, & Roadside Restaurants of Thailand
The Pok Pok Cookbook is available at Portland's finest independent bookstore, Powell's Books and wherever books are sold. Pre-order now, shipping after October 29, 2013. Order 2 copies for free shipping from Powell's, see their site for details!
Authors: Andy Ricker with JJ Goode
Recipe & Image Copyright © 2013 Pok Pok: Food and Stories from the Streets, Homes, and Roadside Restaurants of Thailand; Images and Recipes are used with permission; published by Ten Speed Press; ISBN 9781607742883