Pok Pok Papaya Salad Recipe Ingredients Kit + Free Cleaver

,

Various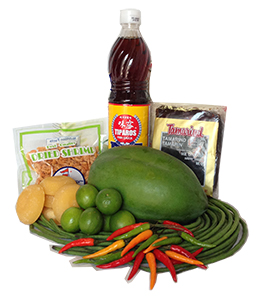 Get all the ingredients with just one click for Andy Ricker's Papaya Salad Recipe (Som Tam). This recipe is part of the menu for Pok Pok's Papaya Salad with Coconut Rice & Sweet Pork (Khao Man Som Tam).
This kit is for making the Papaya Salad recipe only. To make the Sweet Pork and Coconut Rice, for this Pok Pok cookbook three part menu, you will also need the Pok Pok Thai Sweet Pork Recipe Kit and the Pok Pok Coconut Rice Kit or buy all three ingredient kits with just one click here.
The ingredients in this kit are Andy's preferred Thai brands and will ensure your dish tastes just like it does at Pok Pok.
Ingredients in the Papaya Salad Recipe Kit: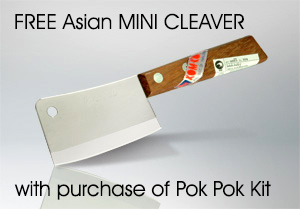 Note that the quantity for some of the items is more then you will need for this recipe (so you can make even more of Andy's fantastic recipes from the Pok Pok cookbook). Also from your local market you will need unsalted peanuts or you can also purchase Peanuts with Skin here separately. In addition, be sure to have on hand garlic, cherry tomatoes and cabbage to make this recipe.
Recommened cookware for this recipe: Clay Mortar & Pestle; Sharp Knife or Papaya Shredder
Also see the Pok Pok Satay with Peanut Sauce Recipe Ingredient Kit
Availability: Ships in 2-3 business days from Los Angeles, California.
Category: One Click Cooking Kits
SKU: 9100000897