Pok Pok Khao Man Som Tam Recipe Kit + Free Cleaver

,

Various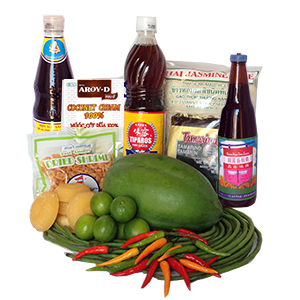 This Pok Pok recipe kit includes all of the necessary Thai ingredients for Andy Ricker's Pok Pok's Papaya Salad with Coconut Rice & Sweet Pork (Khao Man Som Tam) menu, which you may not be able to find locally. This kit is comprehensive.
If you would also like to also make the Pok Pok Thai Fried Shallots to top the dish, you will also need shallots (available here). See each recipe (follow each link below) for complete details about additional ingredients you will need to have on hand to make these three Pok Pok recipes.
Sweet Pork Recipe Ingredients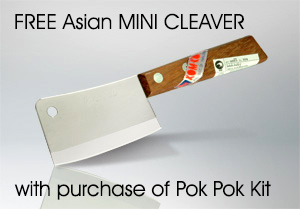 Coconut Rice Recipe Ingredients
Papaya Salad Recipe Ingredients
Recommened cookware: Clay Mortar & Pestle; Sharp Knife or Papaya Shredder; fine-mesh strainer and an Electric Rice Steamer Cooker
Availability: Ships in 2-3 business days from Los Angeles, California.
Category: One Click Cooking Kits
SKU: 9100000901