Pok Pok Papaya Salad Recipe (Som Tam)
Pok Pok's Papaya Salad with Coconut Rice & Sweet Pork (Khao Man Som Tam)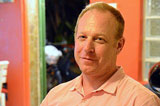 This is the third recipe to make Chef Andy's Papaya Salad with Coconut Rice & Sweet Pork (Khao Man Som Tam).
Each part of this menu is a classic dish in Thai cuisine in its own right, so you will be learning 3 dishes which can be part of a variety of Thai menus. See Sweet Pork (Muu Waan) and Coconut Rice to follow the other parts of this classic Thai meal from Chef Andy Ricker's Pok Pok cookbook.
Let us do all the shopping for you! We've worked with Chef Ricker to create a kit with the essential ingredients you'll need for making Pok Pok Som Tum.
Thai Spicy Green Papaya Salad is eaten throughout the country of Thailand, but originates in from the Isan region (Northeast). There are a few pieces of cookware recommended for this recipe that will make preparation easier and more enjoyable: a Thai Clay Mortar & Pestle; a sharp knife for shredding the papaya or a Papaya Shredder.
Papaya Salad Recipe (Som Tam)
Ingredients
2 generous tablespoons medium-size dried shrimp, rinsed and patted dry
2 ounces palm sugar
1/2 teaspoon water
2 small limes (preferably Key lime), halved through the stem
6 grams peeled garlic cloves (about 2 medium cloves), halved lengthwise
6 grams fresh stemmed Thai chiles (about 4), preferably red
2 ounce longbeans, ends trimmed, cut into 2-inch lengths (about 1 cup)
2 tablespoons lime juice (preferably from Key limes or spiked with a small squeeze of Meyer lemon juice)
2 tablespoons Thai fish sauce
2 tablespoons Naam Makham (tamarind water)
8 ounces peeled, shredded green papaya (about 3 cups, lightly packed)
6 ounces cherry tomatoes (about 12), halved, or quartered if very large
Generous 1/4 cup coarsely chopped unsalted peanuts, roasted
Wedge of cabbage for garnish
Preparation
DRY-FRY THE SHRIMP AND SOFTEN THE PALM SUGAR Heat a small dry pan or wok over medium heat, add the dried shrimp, and cook, stirring frequently, until they're dry all the way through and slightly crispy, about 5 minutes. Set them aside to cool. They'll keep covered at room temperature for up to 1 week..
Put the palm sugar in a small microwavable bowl, sprinkle on the 1/4 teaspoon of water, cover the bowl with plastic wrap, and microwave on low just until the sugar has softened (not liquefied), 10 to 30 seconds. Pound the mixture in a mortar (or mash it in the bowl) until you have a smooth paste. Covered, it will keep soft for up to 2 days.
MAKE THE PAPAYA SALAD Cut one of the lime halves lengthwise into thirds, then cut the thirds in half crosswise. Set aside 3 of the pieces (reserve the remaining lime for another purpose). Combine the garlic, chiles, and 1 tablespoon of the softened palm sugar in a large clay mortar and pound just until you have a chunky sludge with medium pieces of chile and small but visible pieces of garlic, about 10 seconds.
Add the 3 lime wedges and pound very lightly, just to release the juice. Add the shrimp, pound lightly (don't smash or pulverize them), just to release their flavor, then add the long beans and pound lightly to bruise them (they should not break into pieces or totally flatten).
Add the lime juice, fish sauce, tamarind water, and papaya. Then use the pestle to barely bruise the papaya (lightly pounding at a slight angle, not directly up-and-down) for about 10 seconds, while simultaneously using a large spoon to scoop up from the bottom of the mortar, essentially tossing the papaya, palm sugar mixture, and the other ingredients as you pound. Do not smash the papaya. It should remain crisp. Add the tomatoes and pound lightly, just to release their juice. Add the peanuts and mix briefly with the spoon.
Transfer the papaya salad to a plate, liquid and all, and serve with the wedge of cabbage on the side.
Serves 4
Next see: Sweet Pork (Muu Waan) and Coconut Rice (Khao Man Gati) to follow this three part recipe
Image of Andy Ricker By Takeaway (Own work) CC-BY-SA-3.0 via Wikimedia Commons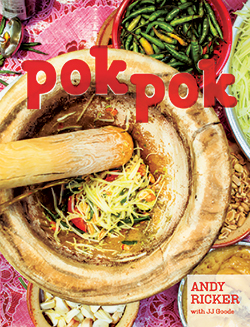 Pok Pok: Food & Stories from the Streets, Homes, & Roadside Restaurants of Thailand
The Pok Pok Cookbook is available at Portland's finest independent bookstore, Powell's Books and wherever books are sold. Pre-order now, shipping after October 29, 2013. Order 2 copies for free shipping from Powell's, see their site for details!
Authors: Andy Ricker with JJ Goode
Recipe & Image Copyright © 2013 Pok Pok: Food and Stories from the Streets, Homes, and Roadside Restaurants of Thailand; Images and Recipes are used with permission; published by Ten Speed Press; ISBN 9781607742883