Pok Pok Satay & Peanut Sauce Ingredient Kit + Free Cleaver

,

Various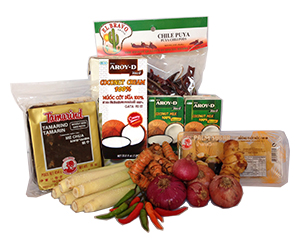 Get all the necessary Thai ingredients not readily available in your local grocery with just one click for Andy Ricker's Pok Pok Satay with Peanut Sauce and Cucumber Relish Recipe. From your local market you will only need to pick up a few ordinary ingredients (listed below).
The ingredients in this kit are Andy's preferred Thai brands, which will ensure your dish tastes just like it does at Pok Pok.
Pok Pok Satay with Peanut Sauce & Cucumber Relish Kit Includes: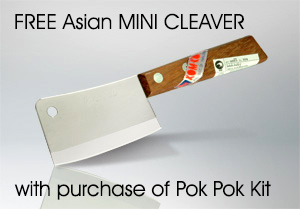 Lemongrass, Temple of Thai, 8 pc
From the local market you will also need: Kosher salt; granulated sugar; white pepper; thick-cut white bread (i.e. Pullman); fresh garlic; unsalted roasted peanuts , cumin seeds (also available here) and coriander seeds (also available here); and for the Cucumber Relish have on hand cucumbers and cilantro for garnish.
Recommended cookware for this recipe: Thai Granite Mortar & Pestle, Charcoal Grill, Electric Blender (or mortar), strainer for making tamarind water, and a Wok.
Also see three more kits to make Papaya Salad with Coconut Rice & Sweet Pork (Khao Man Som Tam):
Availability: Ships in 2-3 business days from Los Angeles, California.
Category: One Click Cooking Kits
SKU: 9100000898