Boxed Coconut Milk

,

Aroy-D

, 33.8 fl oz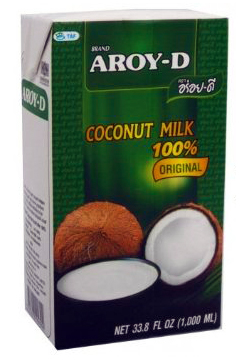 Aroy-D UHT (ultra high-temperature) Coconut Milk packaged in a carton can be used in any recipes calling for coconut cream. UHT milk is preserved by a process whereby the milk is rapidly heated to a very high temperature (more then 135°C, so therefore this is not a Raw Food). It is then packaged in an aseptic carton, increasing the shelf life to up to one year. UHT could possibly be a way to avoid BPA which canned coconut milk may contain, but exactly what this process does to the nutrional benefits of coconut milk is not available in English on the internet.
The consistency of the coconut milk is altered and not the same as canned coconut milk (which if of good quality will seperate into both cream and milk). Therefore if you are making a recipe which calls for both coconut milk and cream, you will need to buy both products.
The best way to open the carton is to use a scissors or sharp knife.
This type of coconut milk is shelf stable and will last up to one year at room temperature. Once opened it needs to be refrigerated or frozen to keep. Note also that though you may store UHT products for a long time the sweetness, flavor and overall quality will decline as the expiration date is reached.
UHT cartons are recyclable in the USA in some areas. If you are unable to recycle these type of cartons in your area, there are ways to reduce your use of them. Start by reducing consumption by selecting the largest carton available rather than multiple small ones. Another idea, to reuse this type of container, is to grow plant seedlings or use for molds.
Also see: Aroy-D Coconut Milk, Small Box; Aroy-D Coconut Cream; Kara Coconut Cream, Large Box; Kara Coconut Cream, Small Box and Fresh Coconuts for making coconut milk.
Availability: Ships in 2-3 business days from Los Angeles, California.
Category: Pok Pok Ingredients, Coconut Milk, Canned Food
SKU: 4100000892