Coconut Knife

,

Product of Taiwan

, 10 oz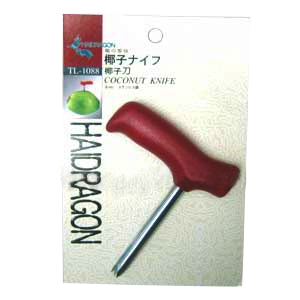 The coconut knife is a simple yet effective tool for cutting a circular drinking hole in the top of a coconut shell. In Thailand, coconuts are usually opened with a machete. Street vendors are known to make this look surprisingly easy, though in fact... it really isn't! With the coconut knife you can save yourself a considerable amount of time and frustration. Holes take only a few seconds to cut, after which one simply inserts a long straw.
Made from high quality stainless steel, the circular blade is four inches long with a strong three and a half inch pastic handle. See our Young Green Coconuts to start enjoying the delicous sweet taste of highly nutritional coconut water.
Also see our Thai traditional Coconut Grater for grating Mature Coconuts to prepare fresh Homemade Coconut Milk and Coconut Cream.
Availability: Ships in 2-3 business days from Los Angeles, California.
Category: Cutters, Peelers & Graters
SKU: 6210000481