Salim Press (Sweet Noodles in Coconut Milk)

,

Product of Thailand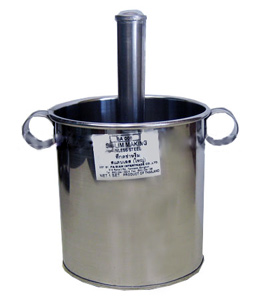 Salim (Sweet Noodles in Coconut Milk or saleem) is a Thai sweet of multi-colored mung bean noodles or threads, sweetened with sugar syrup, flavored with jasmine, topped with coconut milk and served over crushed ice. A traditional favorite kanom of Thailand, salim noodles are always prepared with mung bean flour. Traditionally the mung bean threads are colored with the natural colors of flowers like the Chitoria Tematea Linn (dok un chun) for a blue color or Lac (krang) for a red color. This dessert is especially appreciated in the hot summer season as it is served over crushed ice.
This Salim Press is used for making the mung bean noodles.
Dimensions: width 5 inches, height 5.5 inches; handle length 8 1/4 inches. Made from stainless steel. Product of Thailand.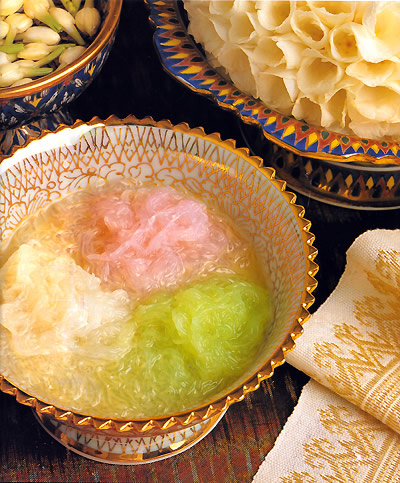 Salim - Sweet Noodles in Coconut Milk
Flour Ingredients:
Simple Syrup:
2 cups (400 g) white sugar
1 cup (110 g) water
1 cup (150 g) Coconut Milk
Mix mung bean flour in water. Divide the dough into 2 or 3 portions and add 1-2 drops of food coloring - red, green, blue or no color are the traditional colors. We recommend doing just 2 colors the first time you prepare this kanom.
Work with each color of dough individually. Pour into a large heavy bottom sauce pan. Put on the stove over low heat, stirring constantly, cook until the flour starts to turn a bit sticky. Then, turn up the flame to medium and continue to stir, cooking for 15 more minutes.
Pour the cooked flour mixture into the Salim Press until full and press down equally into a bowl of cold water (leave the space between bottom of Salim press and water about 20 cm.) Leave the starch noodles in the cold water for about 5 minutes and the drain well and set aside. Continue with the other color(s).
To make the simple syrup, mix sugar and water together and stir on stove over low heat until the sugar melt.
Pour coconut milk into the simple syrup and cook until it just comes to a boil. Remove from the heat and allow to cool. You may also flavor the coconut syrup with a fragrant incense candle to make a pleasant smell. To do so place the coconut syrup in a bowl and cover with a larger bowl turned upsided down. Then light the candle and place inside, under the bowl, on a small plate in order to smoke the syrup.
To serve, place individual serving size portions of the various colored salim noodles in a shallow bowl, and pour over a few tablespoons of the coconut syrup and top with finely crushed ice.
Also see:
Availability: Ships in 2-3 business days from Los Angeles, California.
Category: Thai Dessert Cookware
SKU: 6210000451