Salim Thai

,

AC

, 3.5 oz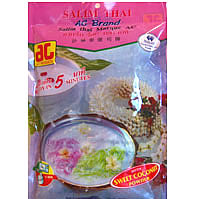 Salim (sweet Thai noodle dessert) is popular dessert for eating during hot season. Instant Salim in sealed package can be boiled and mix with syrup and crushed ice.
Ingredients: Mung bean starch, sweet coconut powder and pandanus leaf flavor. Product of Thailand.
Availability: Ships in 2-3 business days from Los Angeles, California.
Category: Flour & Sugar
SKU: 1800000501