Cotton Tea Filter (Sock)

,

Imported from Thailand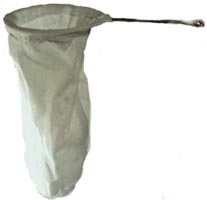 This Cotton Filter Sock Strainer is used for brewing authentic
Thai Tea
and
Thai Coffee
.
Simply add desired amount of coffee or tea to the strainer sock, pour over boiling water, and allow to brew until desired strength (for iced beverages prepare a very strong brew). Remove cotton sock from the brewed beverage, and serve the tea or coffee either hot or over ice.
We recommend buying two socks if you plan on making both Thai tea and Thai coffee.
Clean the tea sock in your dishwasher or by occasionally soaking in a very mild bleach solution and drip drying.
Dimensions: 5" width, 10" length; 100% cotton with stainless steel.
Ingredients: Product of Thailand.
Availability: Ships in 2-3 business days from Los Angeles, California.
Category: Beverages, Cooking Utensils
SKU: 6210000139