Thai Coffee

,

Pantainorasingh

, 16 oz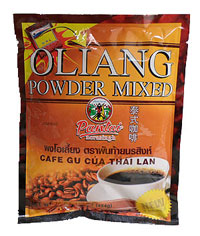 Thai Coffee or Oliang (
oliang
or
o-leang
in Thai) powder is traditionally brewed in a cotton tea sock. Thai Coffee has a flavor unique from ordinary coffee, because of the additions of small amounts of sesame seeds, finely ground corn, and soy beans.
Very early in the morning in the outdoor markets of Thailand you can enjoy this type of coffee served hot with a generous portion of sweetened condensed milk at the bottom of a coffee cup. A plate of deep-fried Thai yeast donuts ('key-gwoy' or 'pa tawng go'), prepared with wheat flour and served with a dollop of sweetened condensed milk is offered on a plate. The whole thing is washed down with weak Chinese tea, which is much appreciated after all the oil and sweetness!
To prepare, brew strong coffee and add lots of sweetened condensed milk and if desired top with unsweetened fresh milk or cream. Serve over ice or hot. See a more detailed Thai Ice Coffee recipe.
Ingredients: Coffee, corn, soybean, and sesame seed. Product of Thailand.
Availability: Ships in 2-3 business days from Los Angeles, California.
Category: Beverages
SKU: 3101001108