Spectacular Fruit & Vegetable Carving Edible Arrangements DVD

,

Pam Maneeratana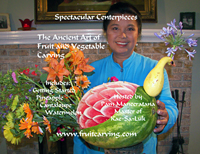 This DVD will teach you how to make edible arrangements, fruit displays and fruit bouquets. The instruction is suitable for both the beginner or professional who needs inspiration and new ideas. To successfully practice the carvings in this DVD, we recommend the knife which Pam uses for most of her carvings in the DVD is the Kom Kom brand, Bird's Beak Knife, available for sale here.
Learn how to carve 3 different fruit arrangements using pineapple, cantaloupe melon, and watermelon. Pam Maneeratana, a Thai master of fruit and vegetable carving for 28 years, instructs how to created edible arrangements and fruit bouquets. This DVD gives you ideas on how to create amazing and unique table arrangement from fruit and vegetables, requiring a minimum of carving skills.
Learn to make beautiful carved arrangements for any occasion. In three lessons, Pam will teach you how to make three different arrangements, each one unique and beautiful, ranging in difficulty from simple to advanced. Open your imagination and follow Pam as she reveals the Thai secrets for transforming a pineapple, a cantaloupe, and a watermelon, along with a few other ordinary fruits and vegetables into Spectacular Arrangements.
Learn step-by-step as she makes a simple pineapple bird with a tail of various fruits and vegetables. Next create a cantaloupe melon bird which can be used as a serving bowl for vegetable and fruit dips. Last, and most impressively, carve a watermelon bird with a colorful tail of flowers picked from your own garden. You will also learn how to use summer squash to make the head of a bird and how to use the bird of paradise flower for the same purpose. Pam will reveal the techniques that no one has ever revealed before to attach the vegetables together for this type of arranged display.
Learn these Fruit Arrangements:
Pineapple Peacock (see video clip below)
Cantaloupe Melon Dip-bowl with Bird of Paradise Flower
Watermelon Bird with Lush Flowery Tail
DVD Details:
Length: 60 minutes
Produced: 2007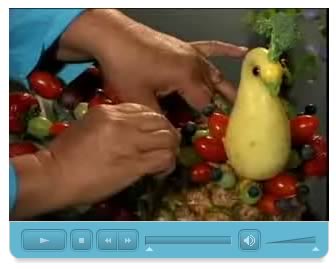 Availability: Ships in 2-3 business days from Los Angeles, California.
Category: Fruit Carving DVDs
SKU: 7100000383