Fun with Peppers, Vegetable Carving DVD

,

Nita Gill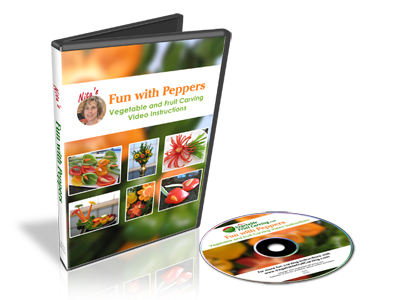 In this instructional vegetable carving DVD, professional fruit carver, Nita Gill teaches multiple ways of turning peppers into fanciful flowers and decorative vegetable bowls. Peppers come in a wide variety of colors and sizes, and carving with peppers gives you plenty of opportunities for creativity.
Dress up your parties by using bell peppers to create these whimsical, colorful serving bowls, flowers, and even vegetable palm trees. Also learn how to carve tiny spray flowers with chili peppers. Peppers can easily be turned into delicate flowers and impressive bowls to dress up your meals and of course, all of these decorations are completely edible, which makes them a fantastic way to add fresh vegetables to your meals. Fresh pepper bowls can be carved ahead of time, then wrapped in plastic and stored in the refrigerator, which makes preparation easy and quick. This DVD also has instructions for two kinds of flowers and two kinds of anthuriums.
Section 1 Teaches you how to make bell peppers into zig-zag edged containers to be used as dipping bowls or to make festive stuffed peppers. This technique will also work with a variety of other vegetables, including tomatoes. Fruits like oranges, lemons, and melons can be made into decorative bowls for desserts. You will also learn how to make palm trees from the bell pepper scraps. Nita also gives you hints on selecting the best peppers and vegetables for these projects.
Section 2 Demonstrates how to carve a selection of easy bell pepper flowers. Nita demonstrates a few different techniques to make these flowers, and you can get even more creative when carving the vege centers. Use the discarded tops of pepper bowls or stuffed peppers to make these flowers, or make a variety of pepper flowers to assemble into an edible bouquet. Nita tells you how to store these flowers so you can carve them a day in advance, to ease party preparation.
Section 3 Teaches you how to make two kinds of anthurium flowers from bell peppers, with baby corn stamens and asparagus stalks. These make a striking bouquet or an elegant decoration at a plate setting.
Section 4 Shows you how to use chili peppers to make quick chili pepper flowers. Since Thai cuisine is famously spicy, these flowers are a perfect garnish. These flowers are easy to make, and will be a useful addition to your fruit-carving repertoire. If you don't like the heat, this technique also works well with small bell peppers. Since these flowers blossom open in ice water, they are ideal to make a day before you intend to display them. Nita explains how to display these flowers, and offers some tips to disguise any carving mistakes.

These projects use bell peppers, carrots, jicama root, chili peppers, asparagus stalks and ears of baby corn. To complete these projects, you will need a pointed paring knife, a fruit carving knife, a bowl of ice water, and some toothpicks. Tools like a smooth U-cutter, a vegetable peeler will come in handy, while latex gloves will help you handle chili peppers without burning your skin or eyes.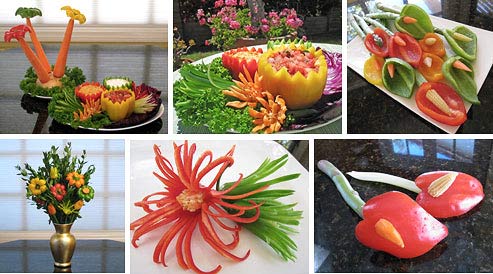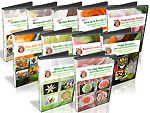 Complete Set of 11 Veg and Fruit Carving DVDs
Nita Gill's vegetable and fruit carving DVD course teaches you how to create beautiful fruit and vegetable carving centerpieces and garnishes.
Availability: Ships in 2-3 business days from Los Angeles, California.
Category: Fruit Carving DVDs
SKU: 7100000640
UPC: 885007157168