Handheld Coconut Grater

,

Imported from Thailand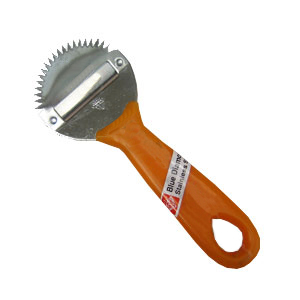 With its sharp serrated "teeth" and strong plastic handle, the hand held coconut grater is a small and useful tool that is ideal for grating long strips of coconut flesh. When making Thai deserts and snacks (frequently referred to as 'kanom') it is vitaly important that no brown flakes fall from the coconut shell onto the grating surface. For this reason, hand held graters are frequently employed for cutting controlled strips of coconut without tainting deserts with other unwanted elements. The most effective way to use this item is to first cut your coconut into two halves, thus making the coconut innards more accessible. Light, sharp, and easy to clean, the hand held coconut grater is an essential item for all those interested in making a variety of different Thai snacks.
Also see our Thai traditional Coconut Grater for grating Mature Coconuts to prepare fresh Homemade Coconut Milk and Coconut Cream and Coconut Knife for opening Young Green Drinking Coconuts.
Availability: Ships in 2-3 business days from Los Angeles, California.
Category: Cutters, Peelers & Graters
SKU: 6210000000