Thai-Style Watermelon Carving DVD Video

,

Nita Gill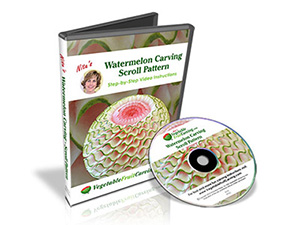 This Thai-Style Watermelon Carving Scroll Pattern DVD will teach you step-by-step how to carve a lovely scroll pattern. This type of carving pattern can be used to carve an entire watermelon or combined with other carving techniques to make your own original designs on any fruit or vegetable.
This Watermelon Carving Scroll Pattern video lesson will show you exactly how, step-by-step to carve this strikingly beautiful design. You will see clear close ups and diagrams as well as hear descriptions and instructions that will make it easy for you to follow along.
This DVD is intended for carvers with some experience. Suggested preliminary carving videos: Carving Watermelon Roses, Buds & Leaves Carving Melon Flowers
Also see other fruit carving DVDs.
Availability: Ships in 2-3 business days from Los Angeles, California.
Category: Fruit Carving DVDs
SKU: 7100000912