Step-by-Step Thai Desserts

,

Sangdad Books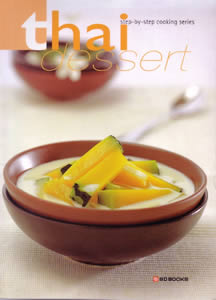 This beautifully photographed book introduces exotic Thai desserts to the West. Thai desserts (kanom) are basically flour, water, coconut milk and eggs but come in a multitude of variations. The book includes an introduction explaining Thai cooking equipment for preparing 'kanom'.
You'll find simple step-by-step illustrated recipes for bananas in coconut milk, black sweet rice with young coconut, sweet potato in ginger syrup, Thai custard with pumpkin amongst other popular Thai desserts.
Author Nidda Hongwiwat, softcover, glossy paper, 103 pages. Sangdad Publications.
Thai Dessert; Barcode : 9789747588330
Thai Dessert Recipes included in this cookbook:
In coconut milk
Banana in coconut milk
Pumpkin in coconut milk
Taro in coconut milk
Sweet potato in coconut milk
Rice balls with young coconut flesh
Mock ark shells in coconut cream
Young coconut flesh in coconut cream
Assorted ice sweets
Mock pomegranate seeds in coconut ice
Puddings
Corn pudding
Rice pudding with longans
Black glutinous rice pudding with young coconut
Tapioca pearls pudding with young coconut
Mung beans pudding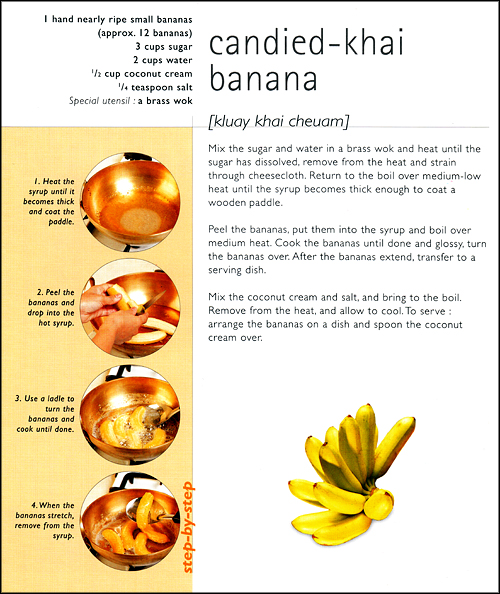 Steamed cakes
Steamed banana cake
Steamed pumpkin cake
Steamed taro cake
Steamed pandanus cake
Two-tone layers cake
Steamed tapioca cake
Steamed butterfly pea cake
Steamed pandanus tapioca pearl cake
Custards
Thai custard with pumpkin
Thai custard in young coconut
Pandanus custard spread
Mung bean thai custard
Candied fruits
Candied-nam wa banana
Candied-taro
Candied-cassava
Candied-khai banana
Mock jackfruit seeds
Cookies
Crispy mock ark shells
Crispy puffs
Flower-shaped cookies
Coconut cocoa cookies
Jellies
Pandanus coconut jelly
Coffee jelly
Custard jelly
Boiled sweets
Poached eggs in ginger syrup
Mung beans in sugar syrup
Sweet potato in ginger syrup
Glutinous rice fingers
Pandanus rice balls
Stuffed crescents with mung bean fillings
You may also be interested in these specialty Thai cookware items:
Availability: Ships in 2-3 business days from Los Angeles, California.
Category: Thai Dessert Cookware, Asian Cookbooks
SKU: 7000450215