Making Curry Paste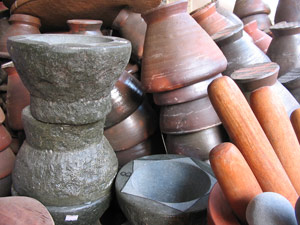 Traditionally Thai curry paste was prepared as needed in a heavy granite stone mortar and pestle. Today many Thais buy their pastes in the outdoor markets ready made with a large grinding machine. Though these pastes are a compromise, they are still fresher then those purchased in a can or otherwise, as these pastes are often made on a daily basis by a local merchant.
But nothing compares to curry paste prepared with the old fashioned mortar & pestle which is still the most efficient means of crushing fibrous herbs and aromatic roots to release their essential oils. To quicken the task, small stone mortar and pestle sets can be used in the modern kitchen to pulverize small quantities of dry seeds like coriander and cumin with better results than an electric coffee grinder. A mortar and pestle gives greater depth and breadth of flavor compared to processing herbs in a food processor. With a mortar and pestle, lemongrass, galangal and kaffir lime peel reduce to a moist paste and meld into one flavor when pounded.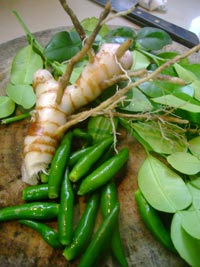 The easiest approach to prepare homemade curry paste for an inexperienced Western cook is to start with the dry ingredients first, pulverizing in either a small mortar and pestle or an electric coffee grinder (used exclusively for spices). Mash all the other wet ingredients in the mortar and then mix the dried powdered spices with the wet spices. Note that whole spices are preferred over already ground spices in most cases, because the oils are retained that make them so flavorful.
Although the best taste comes from freshly prepared pastes, knowing the best brands of commercially available curry pastes may be the quickest way to enjoy Thai curry at home in the time pressed West. Thai cooking instructor and cookbook author, Kasma Loha-unchit, suggests tasting the various brands on a cracker – a good curry paste should taste too strong, so it can be diluted for preparation of the dish and still taste good. One brand of Thai curry paste that is often recommended by Thais (including Chez Pim) is Nittaya. Other curry paste brands that are often recommended are Mae Ploy and Lobo, all from Thailand.
Curry pastes, both freshly made and store bought, can be stored almost indefinitely refrigerated. But once opened they gradually lose their freshness so it is best to use them up as quickly as possible.
Read more about Curry Paste Making at Kasma Loha Unchit's excellent Thai food website.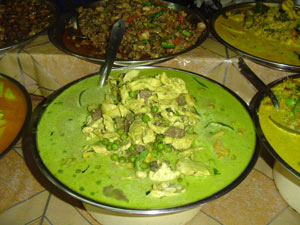 Curry paste is most often blended into water or coconut milk to make a gaeng, like the green curry pictured here. In Bangkok the usual way of preparing coconut curry is to first bring the thick part of the coconut milk (i.e. coconut cream) to a rolling boil over high heat to reduce its volume and separate out the oil, which takes about 3-5 minutes. The curry paste is then added to the cream and the paste is fried in the cream until it is aromatic. The other ingredients follow.
If the curry paste is not fried first, the meat is boiled in the curried coconut milk or water and then the ingredients that take less time to cook are added - this is the more typical method in the South.
The curry is always brought to a rapid rolling boil, not simmered, unlike Western cooking. When cooking curries the pot is never covered, as this can cause the coconut milk to curdle. Fresh herbs like basil are added last to preserve their color and flavor.
Curry paste can also be stir-fried with other ingredients to make the dish paht peht, including pork, chicken or beef. Another popular spicy soup like dish is jungle curry (gaeng pah). Curries are eaten by spooning them over plain steamed jasmine rice, which helps to alleviate the spiciness and counter balances the multitude of flavors acting like a blank canvas. See Serving Curry for more details. Soupy noodle curries like Khao Soy from Chiang Mai are also popular.
We would love to hear your comments so feel free to share your thoughts with us.