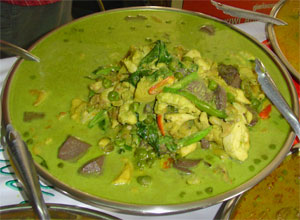 A common way to categorize Thai curry is by the color of the curry paste used to make the curry dish (also see water-based vs. coconut-based curry).
Green and red curry paste are the most typical curry pastes in Thailand. Yellow and sour curries (also sometimes known as orange curry, gaeng sohm) are also well known and each has its own particular combination of herbs and spices to make up the curry paste that makes it unique. Panang and masaman curry are probably the most popular Thai curries in the West, because of their rich tastes.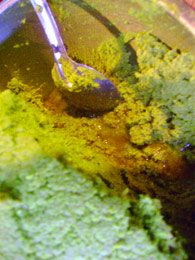 Green curry paste (kreung gaeng keo wahn) is a blend of fresh green chilies and herbs and is used mainly to make Green Curry. This type of paste usually includes fresh green chilies, shallots, lemongrass, white pepper, coriander root, garlic, kaffir lime rind, shrimp paste and sea salt. Sweet basil leaves, round green eggplant and kaffir lime leaves add to the overall lovely green hue in the final curry dish.
Green curry is often considered to be the most popular curry in Thailand with Green Curry with Beef or Chicken (Gaeng Keow Wahn Neau reu Gy) or with fish dumplings being two common combinations. Green curry is "perhaps the most Thai in the sense that it is so different from the curries of other countries" (Kasma Loha-Unchit, It Rains Fishes, Legends, Traditions and the Joys of Thai Cooking © 1995). Some say this is the hottest curry in Thailand but this is not always true, as this depends on many factors, especially the palate of the cook. Now a days green curry paste has become part of fusion food and features in recipes for salmon, spaghetti, pizza and whatever else the creative cook can think up.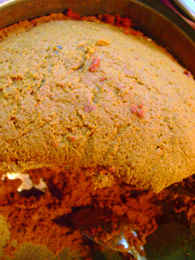 Red curry paste (kreung gaeng phet daeng), with a ruddy hue, is the most versatile of the curry pastes, being used in the widest range of dishes, including coconut milk-based Red Curry Chicken with Bamboo (Gaeng Phet Naw My Gy). Red curry paste can be made with dried long red chilies (prik chee fah), cilantro root, coriander, cumin, garlic, shallots, kaffir lime rind, white peppercorn, lemongrass, shrimp paste, sea salt and galangal. It is prepared with chicken, duck, beef, pork, shrimp, stir-fries and haw mohk (Thai Curried Fish Mousse in Banana Leaf Cups).
The basic ingredients in our simple red curry paste are dried red chili peppers, whole cloves of garlic, sea salt, fresh lemon grass, fresh turmeric for color, and shrimp paste (ka-pee). You will find most published curry paste recipes with many more ingredients added to this basic recipe, but you can make a delicious curry with just these few staples. See our Traditional Red Curry recipe for a easy curry paste like this.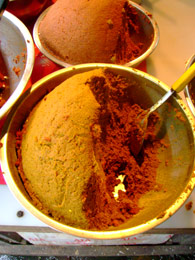 Yellow curry (gaeng leung or gaeng karee ) is a Thai version of Indian yellow curry, including some dried spices in the curry paste. Yellow curry paste (nam prik gaeng karee) is a mellow sweet-spicy paste blend based on turmeric and curry powder pounded together with coriander, cumin, lemongrass, galangal, shrimp paste, dried red chilies, sea salt, ginger, garlic and shallots. This mild paste is usually used in fish stews or combined with coconut milk, chicken, onions and potatoes for Yellow Chicken Curry.
Sour curry paste (kreuang gaeng sohm) is the simplest of the curry pastes and usually forms a water based curry with fish or pork. It is made up of just five ingredients: dried red chilies, shallots, sea salt, turmeric and shrimp paste. Sour curry is especially popular combined with fish. The sour element comes from the addition of sour tamarind (fresh or dried pulp), sour pineapple or other sour tropical fruits.
Other popular types of curry pastes include:
Panang, which is named for the island off Malaysia's West coast and is the basis for a richer, sweeter and drier curry. Using less coconut milk then red or green curry, Panang curry is topped with thick coconut cream and usually served on a plate. Panang curry paste can include dried red long chilies, shallots, garlic, galangal, lemongrass, kaffir lime rind, coriander root, white pepper, salt and shrimp paste. Peanuts are also sometimes added to the curry paste, making this curry especially popular with foreigners. It is most often prepared with beef in Thailand and preferred to be fiery hot.
Masaman curry includes Persian influenced, dried spices and is therefore rather unique amongst Thai curries. Originating in the deep South of Thailand on the border with Malaysia, where the population is largely Muslim, it is most often prepared with lamb or beef as the Islamic religion forbids the consumption of pork. Masaman curry paste combines dried red chilies, shallots, garlic, galangal, lemongrass, coriander, cumin, cloves, white pepper, salt and shrimp paste. The curry dish itself includes peanuts and whole spices such as cinnamon, white cardamom and nutmeg, which is unusual for a Thai curry. It is a thick stew-like curry, mild in taste, and slightly sweet with the taste of roasted spices. Here in the West Masaman Curry Chicken is a favorite dish.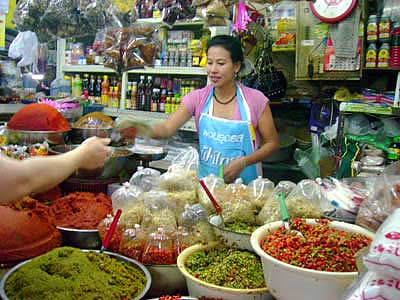 Here is a brief listing of some of the other various curry (gaeng) dishes taken from Vatch's Thai Cookbook to illustrate that there are many more types of curry dishes in Thailand to be discovered by the adventurous eater:
Ook Gai (Chicken and Lemongrass Curry)
Gaeng Om Ma Rad (Bitter Melon Curry)
Gai Kolae (Southern Chicken Curry)
Gaeng Luang Goong (Prawns in Turmeric)
Gaeng Kiow Wan Maprow Awn Neua (Green Curry Beef with Young Coconut Milk)
(Source: Vatch's Thai Cookbook, With 150 Recipes and a Guide to Essential Ingredients, Vatcharin Bhumichitr, © 2004).

See Types of Thai Curry by Region for even more curries!
We would love to hear your comments so feel free to share your thoughts with us.