Thai Curry by Region
There are numerous types of curries and curry pastes coming from the four distinct geographical regions of Thailand including different versions of the same basic curry pastes, such as red and green:
| | |
| --- | --- |
| Curry in Southern Thailand | |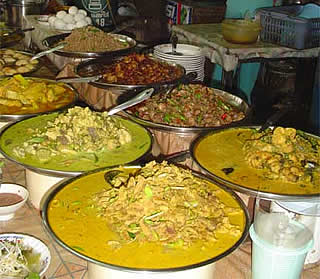 Curry is one of the most important dishes of Thai cuisine. The other dishes for a meal are often planned around what type of curry is going to be prepared in the South. In fact the familiar greeting in the Southern countryside is Gin gang ry wahnee? - what kind of curry are you eating today?
The decision as to which type of curry to prepare hinges upon the available ingredients. Coconut curries are especially popular because of the proliferation of coconut palm trees. But the South is also famous for Gaeng Tai Pla (Spicy Fish Stomach Curry) and Gaeng Leung (Yellow Sour Curry with Fish and is referred to as Gaeng Sohm Plah in the South), both of which are water-based curries.
Nam Prik Gaeng
Nam Prik Gaeng Pad Phet
Gaeng Ga
Gaeng Khua
Tepo
Chamuang
Gaeng Nam Ya
Gaeng Pah
Pad Thai Chan Chili
Toasted Chili Paste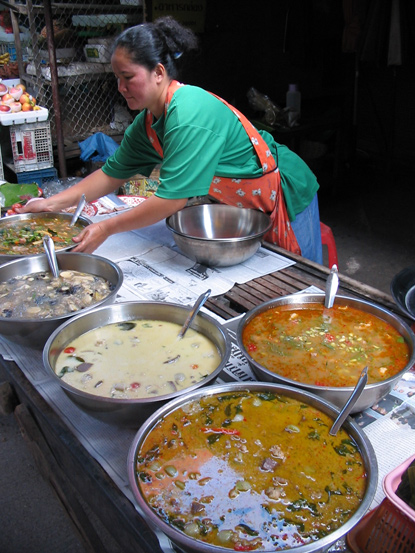 Burmese Style Curry Paste
Hung Lay
Gaeng Hoh
Geang Kae
Khao Soi
Nam Ngeaw
Jackfruit
Banana Bud
Bamboo Shoot
Sour Bamboo Shoot
Nam Prik Gaeng Mookar Dang
Nam Prik Ganeg Sai Aua
Chiang Mai
Tai Plah (Fish Stomach Curry)
Gaeng Pah (Jungle Curry)
Khee Lek (Bitter Vegetable Curry)
Gaeng Khua (Sour Coconut Milk Curry)
Gaeng Ho
| | |
| --- | --- |
| Northeastern Region (Issan) | |
Gaeng Pah
Bamboo Shoot
Aom
Source for listing of curry pastes by region:
Four Regions of Curry Paste, by Thanasah Thangthongjit, Se-Education Public Co. Ltd., ISBN 974-93830-0-1 or ISBN 9789748383
We would love to hear your comments so feel free to share your thoughts with us.