Baked Cuttlefish

,

Squidy

, 1.8 oz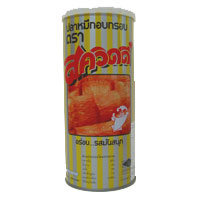 Baked Cuttlefish is a snack food made of cuttlefish, seasoned with sugar, salt, chili and soy sauce. This is a unique spicy tasting squid snack from Mr. Squid brand, Thailand.
Ingredients: Cuttlefish, sugar, salt, chili and soybean sauce. Halal certified.
Availability: Ships in 2-3 business days from Los Angeles, California.
Category: Asian Snacks
SKU: 3110000272